Achievements
Research Grants Awarded to Two Faculty Groups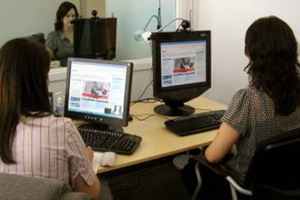 Talk about a vote of confidence. This month, two teams comprised largely of Kogod faculty earned research support grants from the University for the 2012-2013 academic year.
Each year, teams are chosen by the provost's office based on two factors: the scientific quality of their proposal, and group synergy.
Assistant Professor Cristel Russell and Associate Professor John Swasy, along with Associate Professor Larry Engel of the School of Communication and Dale Russell, a professor at the Uniformed Service University, were awarded $25,000 for their proposal, "The Processing and Impact of Health Risk Warnings in Pharmaceutical Television Commercials."
"There is a very standard format [in pharmaceutical commercials] that we're all familiar with, and we want to know exactly what people are paying attention to when watching these advertisements," said Russell.
The group will investigate how positive visual elements in direct-to-consumer prescription drug ads affect the extent to which watchers process accompanying verbal information. You know, the images of a happy family walking down the beach while an announcement in the background warns of the myriad risks.
An eye-tracking unit will be purchased and used to measure attention levels at various times and to various stimuli. The research aims to determine the optimal format for proper comprehension of risks, as well as inform policy and regulation of these types of ads.
"It is exciting to see support that bridges two different ways of thinking," said Engel, who specializes in filmmaking.
Working Together
Associate Professors Mark Clark and Alberto Espinosa received $7,200 for their proposal titled "Team Knowledge." Their study is designed to identify the fundamental dimensions of team knowledge and to use multidimensional social network models to represent this knowledge.
"We're blending two areas of research—team knowledge and social networks—that have rarely been combined before," said Espinosa. "The amount of team research has grown exponentially in recent years, and we're discovering that one plus one equals more than two."
In separate research projects, they have found that teams with a certain level relational knowledge—shared or overlapping knowledge—can accomplish more. For example, John is an expert in the financial management aspects of company X and Judy is an expert on the marketing strategies of the same company. How would you know if John and Judy would make a good team working together? If they don't have any shared knowledge in common they may not be able to develop common ground in their communication to work together effectively. Conversely, two members who are highly experienced in the same area may have knowledge that overlaps too much, which may lead them to problems of group think and lack of creativity.
In mapping how knowledge is applied within teams, they will create a tool to capture and format data.
"This grant will help us make progress toward our ultimate goals," said Clark. "We hope to refine and better understand the underlying metrics, and build a prototype."
Both teams expect to attract external funding to help support later stages of their studies.