Achievements
Bloomberg BusinessWeek Ranking Reflects Academic Quality, Job Placement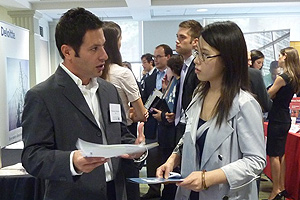 In a ranking where several regional competitors saw declines, the Kogod School of Business advanced five places over the previous year in Bloomberg BusinessWeek's 2012 "Best Undergraduate B-Schools" ranking.
Kogod placed No. 58 out of 142 eligible undergraduate business programs. Eighteen programs were not ranked. 
Highlights
The school received top marks in specialty rankings for: 
Sustainability (No. 5)
International Business (No. 7)
Information Systems (No. 7)
Accounting (No. 13)
Marketing (No. 13)
Finance (No. 16)

Kogod also earned high praise for overall Teaching Quality (A+) and Job Placement (A)—the latter likely influenced by an 89 percent internship rate among recent graduates, achieved with guidance from the Kogod Center for Career Development.
And for Academic Quality, the school nabbed a spot at No. 33 in the country.
"Our students recognize our sincere dedication to their success," said Dean Michael Ginzberg. "Whether it means helping them find internships or jobs, or riddling the solution to an assignment, our faculty and staff are always focused on the student experience, first and foremost."
One responder appeared to agree.
"I get a lot more personal attention from professors and they're easily accessible," the student wrote. "I have the opportunity to pop in and just chat with my teachers."
Methodology
Bloomberg BusinessWeek bases the ranking on nine measures, including surveys of 86,000 senior business majors (32 percent responded). The 2012 student survey was combined with the results of the previous two student surveys from 2011 and 2010 to arrive at a final score for each school.
The publication also polled 749 corporate recruiters (34 percent responded), as well as median starting salaries for graduates and the number of graduates each program sends to top MBA programs.
The academic quality rating was calculated by combining SAT scores, student-faculty ratios, class size, the percentage of students with internships, and the number of hours students devote to class work.