On Campus
For Fourth Year, Danish Students Visit Kogod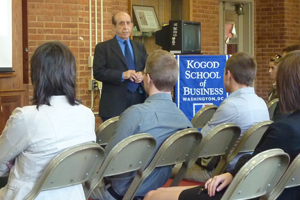 For the fourth year in a row, a group of business students from the International Business Academy (IBA) in Denmark visited American University and Kogod.
The focus of this year's program was the upcoming presidential election and current issues that could affect its outcome. Last year, President Obama's new initiatives were the featured topic.
"Programs like this help us to attract international students," said Ghiyath Nakshbendi, an executive-in-residence who hosted the group. "These interactions are something special that we offer and they get students excited about coming to Kogod."
Professor Nakshbendi welcomed students with remarks and briefly discussed the costs of the wars in Iraq and Afghanistan, gas prices, gay marriage, and healthcare—all hotly contested issues that will impact the way Americans vote in November.
IBA Associate Dean Ian Charles gave a presentation comparing attitudes toward freedom and social welfare in the United States and Europe. "Denmark's system is the nearest to socialism that any country has ever gotten," Charles said. "Our politics are very different."
Executive-in-Residence Bob Sicina contrasted banking in the U.S. with banking in Europe, noting that markets for talent, and resulting salaries, differ widely around the world.
A question and answer session allowed the Danish students to ask about campus life and post-graduation employment opportunities.
The group of 32 students—some who hailed from other European countries—also toured the campus with Kogod student ambassadors and enjoyed lunch.