On Campus
Social Learning Summit Still Unique in Second Year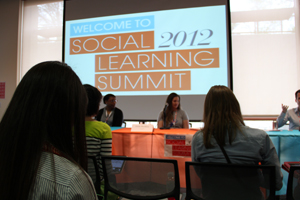 The two-day, second annual Social Learning Summit organized by AU's Social Media Club (@AU_SMCEDU) was far from your typical conference. 
With a focus on utilizing web-based and mobile devices to create interactive dialogue, the conference covered an assortment of topics from how entrepreneurs can best use social media to benefit their business to how both the fashion and food industries are embracing an online presence to connect with consumers.
Yet, the topics covered were not the only components that set the Social Learning Summit, or better known on Twitter as #SLS12, apart. The conversation was not limited to the panelists and the audience—the summit showcased how social media can engage viewers, stimulating exchange between audience members, panelists, and a world of followers present through various platforms.
Twitter handles—a person's username on the site—were included on name tags so that conference-goers could easily find and follow each other. A screen also displayed every time the AU Social Media Club was mentioned, a speaker was mentioned, or the event's hashtag was used in a tweet.
A Conference For All
Alex Priest, KSB/BSBA, SOC/BA '11, founder of the Social Media Club and D.C. Community Manager at Uber, a luxury car service provider, was the keynote speaker on the Friday evening. 
During his presentation, he explained that because of technology, "social media accounts for one of every six minutes spent online. It is a huge part of the Internet right now and if you are not dipping your toes in, you are seriously missing out."
He advocated for social media use in the classroom, which he called "a social space, a place that fits the style of learning that our generation has grown accustomed to," he said.
Club President Chloe Troia, BSBA '12, explained that learning and promoting discussion is really the summit's focus.
"The main benefit from attending SLS is getting to be face-to-face with up-and-coming industry experts and seasoned professionals. The world of Twitter is an incredible place but getting to take the conversations that happen there offline is extremely valuable, and makes it easier to build authentic relationships with people," said Troia.
Julia Rhault, SOC/BA '13, agreed: "You are not going to get to see how social media is actually used by different companies and business models many other places."
Looking Ahead
Troia is an enthusiastic about returning to the conference as an alumna after she graduates in May, bringing a year's worth of working world knowledge to next year's conference.
"We talked about starting a tradition of having the former president give Friday's Kick-Off speech, which would be amazing, but regardless of whether or not I'm a speaker, I'll be back," said Troia.
"What really stood out to me was how much people were engaged in the discussion," said Julie Sheiber, SOC/BA '12. "It was evident that everyone that was there wanted to be as involved in the conversation as possible."