Alumni
Alumnus Investigates Ponzi Scheme For SEC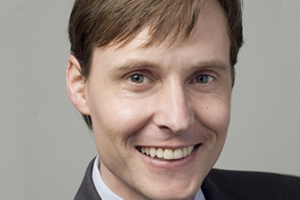 The Securities and Exchange Commission, as a matter of policy, disclaims responsibility for any private publication or statement by any of its employees. The views expressed herein are those of the author and do not necessarily reflect the views of the Commission or of the author's colleagues upon the staff of the Commission.
Last year, Zerubbabel Johnson, MBA '06, was part of a Securities and Exchange Commission team that returned $230 million to the United States.
The money—held in an offshore account by a hedge fund—was returned as a result of a court order obtained by the SEC in a Ponzi scheme lawsuit. A Ponzi scheme, similar to a pyramid scheme, is a fraudulent investment operation that often attracts wealthy investors to a so-called exclusive opportunity.
An examiner at the SEC, Johnson was on the team that brought the scheme to light. "I was part of a joint team of examiners and attorneys that uncovered a massive fraud at two institutions," said Johnson.
After reviewing books and records at Highview Point Partners, an investment advisory firm, Johnson was "alarmed at the serious problems we found, including many extremely suspicious transactions with another entity, the Michael Kenwood Group."
A full investigation soon followed; the SEC brought charges against the Michael Kenwood Group in January 2011. Highview was charged in May 2011.
Johnson and his colleagues continue to provide assistance to the attorneys who are litigating the charges in the case, which is ongoing.
Forging a Career Path
Beyond working directly on examinations of financial institutions, Johnson's day-to-day responsibilities are typically focused on reviewing developments in the financial sector to identify risks relevant to securities regulations.
"While I'm in the office, a lot of the work I do is reviewing industry publications, as well as data on the financial industry and reports from other examiners," said Johnson. "When I'm in the field, I do extensive reviews of financial firms' operations."
He likened his fieldwork to auditing, although he conducts many face-to-face interviews in addition to reviewing documents.
Now settled at the SEC, Johnson wasn't sure how he wanted to proceed professionally prior to attending graduate school.
"I was trying to decide between work in the for-profit, nonprofit, and public sectors, and I felt that Kogod offered a good mix of perspectives—rather than many other MBA programs that are heavily focused on the corporate sector," he explained.

American University's location in Washington, D.C., was also a deciding factor.
During his time here, Johnson enjoyed getting to know his professors and learning from them—professors Ronald Anderson and Ajay Adhikari's finance and accounting classes were particular favorites. "My best experience was working with [Professor Erran] Carmel in helping prepare his book for publication."

As he enjoys his position with the SEC, as well as living in the D.C. area, Johnson has no plans for any big changes in the near future.
"We have great people who work at the SEC, and a good work environment, for recent graduates and financial industry veterans alike."