Athletics
Accounting is a Contact Sport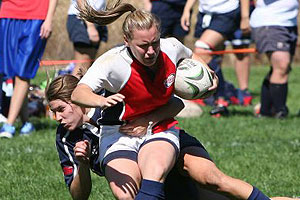 Balancing school and collegiate athletics is no small feat, but David McGarry, BSBA '12, and Kaitlyn Rooney, BSBA '11/MSA '12, used it to their advantage.
Both accounting students, Rooney and McGarry have also both served as team captains for the AU club sport. 
Rooney was captain of the women's rugby team in the '10-'11 season; McGarry is currently president of the men's rugby team and one of three team captains.
Finding A Place
McGarry had ten years of football and wrestling experience under his belt when he came to AU. "I was anxious to try something new, and because of my experience with contact sports, I was immediately drawn to rugby," he explained.
His team won the division in the closing seconds of an exciting playoff match last fall.
Since her freshman year, Rooney grew to love rugby more than any other sport, in part because of its uniqueness, but also because of the people she met on the team.
In 2010, Rooney represented AU at the Women's Senior National All Star Championships playing for the Collegiate All-American team.

Despite their busy schedules, Rooney and McGarry found time to excel in the classroom.
"The rugby team is very accommodating to students with hectic schedules," said McGarry. "I've have been able to continue playing rugby uninterrupted while taking a full course load and holding several jobs and internships."
Rooney found that the more she had going on the more motivated she was. 
"I tend to manage my time more wisely when I am committed to several activities at once because at this point you have no choice but to manage your time in such a way," she said.
Off the Field
It didn't take long after for both Rooney and McGarry to separately discover an interest in accounting.
McGarry started at AU as an economics major, but after taking several accounting classes decided to pick up accounting.
"My father is a Certified Public Accountant, so I heard plenty about accounting growing up—I could name all the Big 4 accounting firms by 8th grade," said McGarry. "However, it wasn't until spring of my freshman year, that I started to realize I actually enjoyed accounting."
As an undergrad, Rooney was very interested in international business. The enthusiasm of the faculty and staff and AU's the location were the reasons that Rooney decided to pursue an MSA at Kogod.

Rooney worked with Executive-in-Residence Emily Lindsay and Professor Ajay Adhikari as the educational assistant for the MSA Program last semester. "My goal was to learn the ins and outs of the MSA program to help develop ways to enhance and better market the program for future students," she said.
McGarry also worked closely with Kogod faculty, serving as a supplementary instructor for two introductory accounting classes.
Goal in Sight
With rugby season more than half over and graduation in sight, McGarry and Rooney already have their next steps solidified.
Rooney will work full-time at KPMG in the federal audit practice starting in August. She plans to take the CPA exam in July.
McGarry has a part-time job as a research associate for Public Company Accounting Oversight Board Member Steve Harris and will continue in that role through the summer while also studying for the CPA exam. Starting in the fall he'll work as an auditor at Ernst & Young.