On Campus
Accounting Students Well-Suited for Summer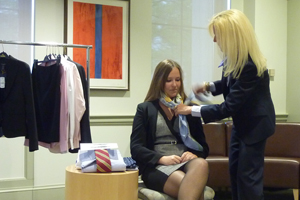 Sometimes, you need to look the part to land the job.
The Kogod Accounting Club welcomed Brooks Brothers of Chevy Chase last week to host a discussion about how to dress for success and the importance it holds in career management. 
Louise Perkins, a Brooks Brothers' associate, arrived with seasonal styles in hand, ready to outfit student attendees in clothing suited for their upcoming summer internships or future job interviews.
Dylan Vogt, BSA '12, and president of the Accounting Club, explained that the idea for the event came after he purchased a suit from Perkins last fall.
"She provided me with such extensive information on finding the right suit, matching clothing colors, finding the appropriate accessories, and how to build my wardrobe," Vogt said. "I thought she would be an ideal guest to invite to Kogod to provide similar information to others."
Caroline Cooper, BLC'12, agreed.
"The presenters were animated, and it was nice that they had samples to show what Brooks Brothers has to offer young professionals."
Vogt explained that it was the club's first collaborative event with Brooks Brothers, but they plan on inviting them back during the fall semester to host a similar workshop during recruiting season—the time period from September to November when the majority of accounting firms recruit.
While showcasing style options and demonstrating how to tie a scarf and dress tie, Perkins emphasized, "An investment in your wardrobe is an investment in your future."
Vogt acknowledged the higher price points of Brooks Brothers, but said he thinks like any financial decision, it's all about return on investment.
"Investing in professional clothing goes a long way in the business world."