On Campus
Class Speakers Include Ranking Officials, Experts—Even Royalty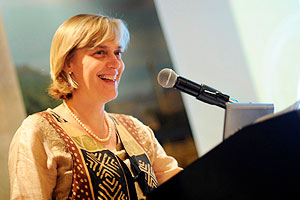 The general counsel of the FDIC, a renowned microfinance leader, and a countess; all three visited American University's Kogod School of Business this semester to speak with undergraduate students at the business school.
Countess Alexandra of Frederiksborg, a former member of the Danish Royal Family, is widely known for her charity work. The countess also sits on the board of directors of Ferring Pharmaceuticals. 
She discussed the importance of ethics in international business, and particularly in the pharmaceutical industry. "I believe we are living in a time where moral DNA is crucial," she said.
While short-term market pressures might challenge a company's long-term commitment to integrity, she believes in present day, "to maintain a healthy business, companies need to be trusted." 
The countess cited specific examples employed by the multinational firm—such as an anonymous ethics tip line available in 50 countries, and the appointment of a global ethics officer—in her speech to Assistant Professor Michelle Westermann-Behaylo's class.
Microfinance & Global Business Development

Executive-in-Residence Ghiyath Nakshbendi's microfinance students had the opportunity to see their text come to life when Dr. Elisabeth Rhyne came to speak. The students use her book, Microfinance for Bankers and Investors, as part of course work. 
Rhyne currently serves as managing director of the Center for Financial Inclusion, a Washington, DC-based think tank.

During her March visit, she spoke about client protection principles for microfinance and the Smart Campaign, a global awareness effort to unite leaders on the minimum protection clients should expect from loan providers. Rhyne began her talk by asking students how they expect to be protected, as consumers, by their financial services institutions.
Global Corporate Citizenship

Also from the world of finance, Mike Krimminger, general counsel at the Federal Deposit Insurance Corporation visited Senior Professorial Lecturer Daniel Jacobs' undergraduate class to discuss the FDIC's role in response to the subprime mortgage crisis.
"A serious mortgage problem still exists in the US," he told the students. "Housing policy over the last 20 to 30 years has not been sound." 
Explaining that many parties were at fault—including the government, lenders, underwriters, and (in some cases) the homeowners themselves—Krimminger detailed the FDIC's response. Largely led by former chairperson Sheila Bair, the FDIC worked to avoid runs on bank deposits by building public confidence and system stability.
Jacobs will bring another high-profile speaker to campus Friday, April 27. The American University community is welcome to hear EPA Administrator Lisa Jackson speak at 10:30am at the School of International Service to culminate Earth Week programming.