First Person
Student Perspective: Women Are Emerging Platforms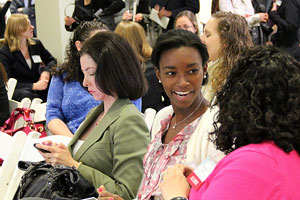 Last week I attended Kogod's first Women in Business Conference, co-sponsored by our graduate student club, Kogod Women in Business.  
The entire day was devoted to female-focused topics, with sessions that included, "How to Be a Well-Spoken Women," "How to Negotiate Your Salary Like an FBI Agent," and "Find Your Voice.  Build Your Brand.  Spread the Word." 
In the afternoon, the conference led directly into the Alan Meltzer CEO Leadership Speaker Series event, with the year-long theme "Women And Emerging Platforms," featuring Laura Evans, The Washington Post's chief experience officer. 

As I sat there, I realized that some would ask, why have a women-focused conference?  Why have an entire speaker series dedicated to the theme of "Women & Emerging Platforms"?

And my favorite question posed to me of late—"Why is there a student club called Kogod Women in Business?  Is there a Kogod Men in Business?"

Just 18 months earlier, some of my own questions on this topic began.  When I first started looking into an MBA, I did what most potential MBAs do, regardless of gender:  I went to all the websites of regional b-schools and reviewed each site's current student profile. Like most others, I wanted to know, "Who did the school accept historically, and how similar or dissimilar am I?" 
In essence, "Do I fit the profile?"
And that's when I first realized that being a woman and getting an MBA might be a different proposition than my male counterparts' experience.  The online profiles started to paint a picture of what the business classroom might be like, and ultimately, what the profile of leadership in the business world at large would look like. Needless to say, there were significantly less women than men represented on those website profiles.  
I started noting that when I visited schools and sat in on classes, there were more men than women (65 percent vs 35 percent, usually). If I happened to visit advanced classes in the quantitative realm, women were few and far between (my personal experience saw the 35 percent drop to 10-20 percent women, best case scenario). 
It's a harder realization that you might not "fit the profile" of an MBA candidate when you look around a classroom and you literally do not see your gender. 
The answer to the original questions above is actually pretty simple. We organize, convene, focus, uplift, and support women's events, gatherings, and meetings because we need to see, hear, understand, and ultimately, value women in business at any level.  
And because the business world at large has not done so.  Because, for example, only 12 of the Fortune 500 companies have women CEOs.  Because there have been only 39 women in the U.S. Senate ever (and I mean since the creation of the Senate in 1789, not just this particular session).  Because I, and other women, need to see a profile of ourselves 5, 10, 15 years out of business school. 
Our conference brought together AU alumni, community leaders, leaders, and MBA students who will someday lead as well. And by gathering us all together—for one day—we looked and sounded like the reciprocal of what we see every day in the classroom, in the meeting room, and in the boardroom. 
I saw and heard a variety of successful women all around me, and for one day, I experienced life as a man in business.
Additionally, ending such an inspiring and powerful day with Laura Evans' presentation on strategy and her central role in shaping the future of The Washington Post made me realize that the entire speaker series could have been changed from "Women And Emerging Platforms" to "Women Are Emerging Platforms," as the foundation and importance of future business success can be equally placed on women and men. 
Although the conference and speaker event helped me answer some of these questions, I also know that it posed so many more questions that beg answering.

My question for you is, will I see you join us next year?