Alumni
Awards Honor Two Longtime Kogod Supporters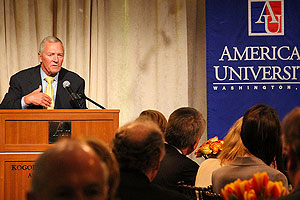 At the 12th annual Dean's Dinner on April 19, Dean Michael J. Ginzberg presented awards to George J. Collins, MBA '70, and Jacqueline Grapin.
An event that honors those who have supported the school, the evening began with a cocktail reception followed by dinner in the Katzen Arts Center Rotunda.
This year, a farm-to-table theme paid tribute to the Fall 2012 launch of the MS in Sustainability Management degree program. Every effort was made to use local farms and suppliers in preparing the food. Artisanal honey from organically run farms in Maryland was given to guests at the end of the night.
Dean's Alumni Award
Collins received the Dean's Alumni Award, which honors an alumnus who has distinguished himself in service to the school, community, or professional field. "George has achieved exceptional distinction in all three areas," said Ginzberg.
In 1997, Collins retired after a 26-year career with T. Rowe Price Associates, a diversified financial services company headquartered in Baltimore; he had served as both the chairman and CEO. Under his stewardship, T. Rowe's assets increased from $17 billion to $80 billion, and the number of funds the company offered grew from 23 to 68.
Collins and his wife Maureen, who joined him at the event, have given more than $2.3 million to American University since 1976. An AU trustee from 1986-2005, he was vice-chairman of the board in 1997 and chairman in 2001.
In 2007, Collins established the George and Maureen Collins Chair in Strategy and Consulting, which is currently held by Associate Professor Parthiban David, who teaches and researches corporate governance and strategic management.
Community Leadership Award
Grapin received the Community Leadership Award in recognition for her many contributions to foster relationships and understanding between the U.S. and Europe.
Founder and chair of The European Institute, the premier European-American public policy organization in D.C., Grapin is also publisher of European Affairs, a publication of the institute.
An expert in European integration and transatlantic economic and strategic issues, Grapin also holds the title commandeur de L'Ordre National du Mérite, which is granted to both French and foreign nationals for achievements and service within France and abroad.
In addition to serving on the Kogod Advisory Council, Grapin and her husband, Michel Le Goc, are the parents of two alumni: Claire Le Goc, WLC/JD '04, KSB/MBA '06, and Julien Le Goc, BSBA '00. Julien is currently pursuing an MS in Finance degree at Kogod.