Athletics
Lacrosse Ladies Double as Business Students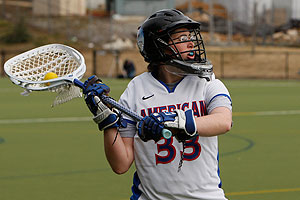 Success ultimately grows from preparation, hard work, and dedication; an ideology AU's women's lacrosse team knows something about. 
The team was acknowledged by the Intercollegiate Women's Lacrosse Coaches Association as the 2011 Merit Squad for its academic excellence, maintaining the highest grade point average in all of NCAA women's Division I lacrosse.
Of the 20 athletes on the team, three are Kogod students. The ladies—Kimmy Collins, BSBA '13, Eliza Morgan, BSBA '13, and Mia Rosen BSBA '14—shared the story of their academic and athletic successes.
The key, they said, is a strong team camaraderie and a coaching and advising support system that makes both education and training a priority.
Collins, the team's elected co-captain for the 2011-2012 season, explained that the balance helped the girls achieve a winning record in 2010-2011 of 9-8 and 3-3 in the Patriot League. Collins was recently named AU Student Athlete of the Week, presented by Geico.
This year, the Eagle's regular season record was 7-9. The team is fourth seed and advanced to the Patriot League Tournament for the second consecutive year. They will play Navy on Friday, April 27 at 5 p.m.
Academic Success
Individually, Collins, Morgan, and Rosen excel on and off the field. 
Collins was named to both the All-Patriot League Team and Academic All-Patriot League Teams twice, and was recognized for having one of the top GPAs in AU's athletics department. The awards are given by conference head coaches out of all Patriot League women's lacrosse athletes.

Morgan, too, has maintained deans' list status in all her semesters at AU, and she and Rosen hold a place on the Patriot League Honor Roll.
They attribute their accomplishments to a family-like atmosphere that makes spending hours in the library after a full day of practice and classes much easier.
"With only 20 girls, we are a small team compared to other schools.  However, this makes us so much closer," explained Morgan. "It makes the experience amazing to come to school and play lacrosse with your best friends every day." 
For Collins and Morgan, a natural interest in business lead them to Kogod.  Coupled with the school's location, AU and the business school appealed to the girls in terms of opportunity and growth.
"I have always been interested in business," said Morgan.  In high school, she recognized her affinity for quantitative subjects.

For Collins, one of her interests was always marketing, so she described Kogod as a natural fit.
Why Balance is Essential
Five-hour daily practice sessions can be demanding, but both Collins and Morgan explain the benefit of being a student athlete far outweighs the stresses accompanied with it.
"I have gained so much from being a student athlete," said Morgan. "Not only have I gotten the once-in-a-lifetime chance to play a D1 sport, but I have gained friends for a lifetime."
"There are so many life lessons that come out of playing a Division I sport that often people do not acknowledge," she continued. "I have showed myself that I truly can do anything."
"If you are able to make the commitment, [playing D1] it is one of the best experiences you will ever have," said Collins. 
"Being part of a team where everyone is working so hard for a common, shared goal of winning that championship is one of the best things in the world."