First Person
First Person: Graduating Student Secures a Job at a Big Four Firm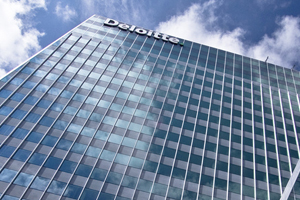 Camille David, BSBA '12, explains her senior year job seeking process. During her time at Kogod she served as a teaching assistant and interned at Finesa Real Estate Group. Working toward a career in public accounting, David will start at Deloitte after graduation.
I went to Accounting and Finance Day with a great elevator speech and a list of all the tables I was going to target. The recruitment process that started after that was exciting, challenging, and tiring. I applied to eight jobs at seven different companies, two of them with Deloitte in audit and business risk. I was fortunate enough to receive an interview at every position, including both at Deloitte. Within one week I interviewed four times. By the time I got to Deloitte—my last one—I felt very comfortable in a suit. Throughout most of the process, I was in disbelief. I went in thinking these interviews would be good practice and that I could be applying well into the spring. I didn't think I had the grades or internship experience to be competitive for a job at a Big Four accounting firm, or any firm at all. When I began getting the calls for the second round interviews, I was shocked! 
The day after my interview with Deloitte, I received a call from the recruiter, Katie Crona. She said I could choose which office I wanted to interview with for the second round. I looked to my friends and my mom for help with choosing, but at the end of the day I went with my gut and chose business risk. When I went to the office visit, I was hooked. After the introduction and breakfast, we had our interviews. I found out that one of my two interviews was with the principal who was in charge of the entire recruitment process for that year. I was nervous, but everything must have gone well because I received the job offer early the following week. 
Now it's a waiting game. I was assigned to federal so I will not have an office at Deloitte but instead will be at my client site, the government. We assess financial statements like an auditor would to identify risk, but instead of simply issuing an opinion, we help with the solutions side. Most of the jobs run for six to nine months and then your engagement changes.  I like the fact that I will change the location of where I work within the first year. Many federal units do not have statements that are readily audited, which is why Big Four companies are helping them prepare statements or doing what I will be doing. 
At the beginning of the year, I was in training in a Kogod conference room for my job as a Business 1.0 teaching assistant. The dean came in and asked all of us to introduce ourselves and share what we had done that summer. We went around the table and it was "I interned here" or "I worked there" and then I had to say I was a nanny on Cape Cod. Through the process, I had to remind myself that those things mattered, but other things mattered too. The number of jobs is increasing, especially in accounting, but you have to make yourself stand out in other ways.