Alumni
Father, Daughter Share Degree Forty Years Apart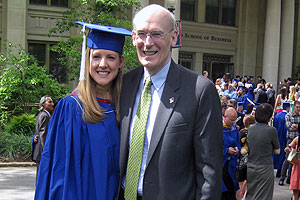 On May 12, Kristen Rannels Goldman, MBA '12, walked across the stage to accept her diploma, marking the conclusion of her graduate education on Mother's Day weekend. Her father, James, got a gift as well: he watched his daughter graduate with the same degree he earned 40 years earlier.
And the father-daughter duo shares more than matching degrees from American University. The two also share a professional passion for the environment.
James Rannels, MBA '72, recently retired after 38 years at the U.S. Department of Energy, where he started after his graduation. He analyzed alternative energy sources as a fortuitous prelude to the oil embargo of 1973. 
Over time, his focus honed to solar energy. He spent 11 years as director of the national solar energy research program, which concentrates its research efforts on photovoltaics and solar thermal systems.
Kristen, now an environmental planner in Arlington County, Virginia, grew up in the area, seeing firsthand the explosive development. Conversations with her dad helped inform her thinking about the finite nature of resources. Though she started her undergraduate experience at UNC-Wilmington as a business major, she quickly switched to Environmental Studies.
But, as she progressed in her career, "I realized an MBA was something I wanted, to obtain a stronger background in finance," she said. "To be able to make a stronger case for an environmental initiative or technology project...to make better decisions."
Unlike her dad, who took a leave of absence to return to school full-time, Kristen earned her MBA part-time.
Past to Present
In the early 1970s, James remembers the MBA program when it was in its youth.
"We were a relatively small class, but a lot of the teaching techniques that Kristen has been exposed to were the same that we were doing," he said.
At the time, the business school had 27 faculty members; forty years later, it has 72.
James, an engineer by training, saw the need for an MBA to grow his managerial skills. At the time, energy efficiency and renewable energy—in fact, the whole environmental arena—were new ideas. "Almost everything was different from what had previously been done for the federal government," he explained. "It's been a great experience; I've used my MBA almost continuously since I graduated."
That's why when Kristen told him she was thinking about an MBA, his advice was, "Go for it." When she decided to apply to American, he was pleased but told her to do what she thought was best.
"I'd heard how well-rounded the program is, the professors are all outstanding," she explained of her decision. "The D.C. location was convenient."
Both Rannels enjoyed their finance classes and recognized how environmental decisions are often driven by finance and economics. Discussions in her advanced financial management class during the European economic crisis helped Kristen better understand what was going on in the world; James warmly remembers class trips to New York to major banks. "I guess the apple doesn't fall far from the tree," Kristen laughed.
Kristen remains open-minded about her post-graduation plans, but now recognizes an affinity for finance and information technology. "I would love to stay [working on] the environment, would love to work in an information technology arena; finance is also interesting. Anywhere I can use my education as well as creating efficiencies."
James is just proud of her achievements.
"What more could a dad ask for?" he said.