Internships
Undergrads Land Impressive Summer Internships
By Charlie Dale
May 31, 2012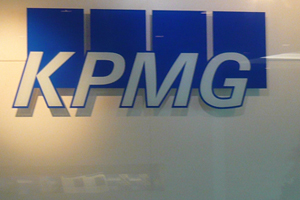 With the conclusion of the semester comes the end of homework, studying, and getting out of bed for the dreaded 8:55 classes every week. For many students, the summer months are an ideal time to relax and enjoy responsibility-free life for a few months.
But a commitment-free summer wouldn't be in typical Kogod fashion, as evidenced by the many undergraduate students who will spend their days interning at various organizations in the D.C. area.
Ian Garber, BSA '13, has plans to be a CPA and dreams of being a partner at one of the big four accounting firms. Things are looking up for him, as he was able to secure an internship at KPMG starting May 30 and continuing through next March. He will be updating databases, contacting clients, and working on drafts regarding new tax laws.
Garber learned of the internship from a KPMG campus representative, and then successfully interviewed after getting tips and advice from Andrea Carpenter of the Kogod Center for Career Development (KCCD). "I can't speak highly enough of her help in preparing me for the interview," Garber said.
Dani Strassburg, BSBA '14, wants to gain internship experience before deciding on a specialization. To help in her decision, she'll intern in the human resources department at SiriusXM Radio. Her duties will include various HR-related tasks such as updating personnel files and contact information in the applicant tracking system and recruiting for fall interns.
Strassburg explains that the recruitment process can be tough in the summer when career centers are not as active and there are fewer career fairs; so social media becomes a crucial method for reaching potential interns.
Strassburg discovered the position in K-LAB's weekly BizUndergrad emails. To those looking for future internships, she says, "start looking early and do your research!"
Aditi Harsh, BSBA '14, will be a marketing intern at New Media Strategies, a social media marketing firm. She is particularly excited about doing a lot of hands-on work and applying the marketing knowledge that she has been gaining in the classroom.
Harsh found her internship from a posting on Kogod's CareerSource website. "Research your field of interest as much as possible and look for job opportunities consistently, instead of last minute. If there is a certain company you want to work for then don't be afraid to call and get more information."
Garber echoes this advice, saying "If you have any specific companies you are seriously interested in, keep in touch with and maintain a relationship with their campus representative."
Staying in D.C. can mean giving up a former summer job as well as time with friends and family, but many—like Garber, Strassburg, and Harsh—find opportunities in the area that are too good to pass up.