On Campus
Incoming SMC President Has Big Plans
By Charlie Dale
June 11, 2012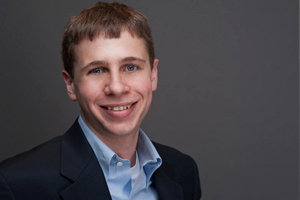 While many people only use social media for their own personal entertainment, Ben Loeb is taking it to the next level.
As the incoming president of the AU Social Media Club (SMC), Loeb, BSBA '13, is hoping to use social media to connect the AU community.
Loeb has some exciting things planned for the upcoming year. First up: a blog series that will highlight the many different AU Twitter accounts (@AmericanU, @KogodBiz, @AU_SOC, and @AUcollege, among others). By interviewing the managers of each of these accounts, Loeb hopes to find out how each of the schools uses Twitter to promote their events and engage their students. He then wants to use the information to create a guide for some of the schools and departments on campus looking to start using Twitter.
Other goals Loeb has for the SMC include campaigning with an off-campus organization or company, doing an event on the visual social networks like Pinterest and Instagram, getting involved with DC Week 2012, and continuing the success of the SMC's flagship event, the Social Learning Summit, which will take place next spring.
The Westchester, New York, native is also focused on enjoying his final year at AU. "After college I'll probably look for a job with a marketing or PR agency, hopefully one that has a strong digital team," he said. He wants to earn an MBA at some point, but first wants to get some work experience under his belt.
Loeb is spending this summer interning at PeekAnalytics in New York City. There he helps to map users' digital footprints by tracking their public information across 60 different social sites. Loeb actually got the internship through Twitter: he had tweeted and written a blog post about PeekAnalytics, leading company representatives to ask him to interview.
Loeb credits the many opportunities in Washington, D.C., as his favorite part of his undergraduate experience. Different events—from the What's Next DC conference to Jon Stewart and Stephen Colbert's Rally to Restore Sanity and/or Fear—have taught him a lot about the current marketing and social media environments.
He also cites the Alpha Kappa Psi Business Fraternity as a major influence. "Being a member of AKPsi has helped me socially by introducing me to a lot more people in Kogod, and professionally by developing important skills, such as interviewing and maintaining professional relationships."
To other students interested in the marketing/communications fields, Loeb advises "keep up to date with what's going on in the industry. Marketing is always changing. Whether it's advertising or social media, there's always something you can learn from."
If you'd like to ask a question for the SMC's upcoming blog series, tweet to the hashtag #SocialAU. You can follow Ben @loebben and the SMC @AU_SMCEDU.