Government & Politics
Health Care Ruling Dictates Change for Graduate Tax Program
By Jackie Sauter
July 16, 2012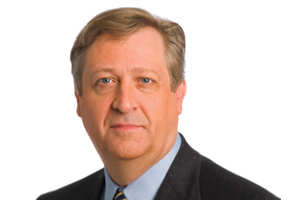 The Supreme Court's decision to uphold the constitutionality of the Affordable Care Act, based on the justices' view that the Act's "shared responsibility penalty" could be considered a tax, is a "fundamental redefinition of what constitutes a tax," according to Donald Williamson, director of the MS in Taxation degree program.
That's why incoming taxation graduate students will read and discuss the decision in one of their first courses, Legislative and Judicial Foundations of Income Tax, taught by Professor Michael Sampson.
The course material is delivered through the Socratic method, Williamson explained, much like law school. Taxation students analyze over 500 pages of complex court cases, reading opinions and interpreting judges' statements, in order to learn not only the "what," but also the "why" and "how" of judicial doctrines. The landmark June 28 ACA ruling alone is more than 200 pages.
"The point of the graduate tax program is not to teach them the rules alone—those change everyday," Williamson said.
Among other topics, students will discuss the collateral impact of the ruling on taxpayers and tax preparers. The class covers the characteristics of income, dispositions of assets, capital gains and losses, tax credits, limitations on business expenses and losses, and tax accounting principles.
Taxpayers' Nightmare?
As part of the legislation, every American will have to attach a form to their 1040 declaring that they have health insurance; if not, they'll have to pay a penalty computed on the return as part of their income tax.
"It's a computational nightmare," Williamson said, because it's based on "family" income, but goes beyond the traditional definition of a nuclear family.
"This legislation could be called the tax accountant employment act," he went on. Indeed, assuming the legislation is not repealed, the IRS will need to staff up in order to aid in administration of the new law through the Internal Revenue Code—good news for job-seeking taxation students.
Williamson cautioned that the legislation could still be repealed as part of Congress' budget reconciliation process, which only requires a simple majority of 51 votes in the Senate.
Only time will tell.