Student Life
Capital Connections Opens Doors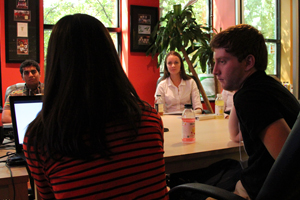 An alternative Welcome Week program took freshmen off campus to explore the city last week; not as tourists, but as residents who will spend the next four years making the most of their time in the nation's capitol.
Capital Connections is a three-day program that introduces undergraduate students to the D.C. business community.
Capital Connections 2012 from Kogod School on Vimeo.
This year's Capital Connections program, an alternative to other new student programs during Welcome Week, visited Honest Tea, The Diner, and Nationals Park on August 22.
This year, site visits included Honest Tea, The Diner, and Nationals Park, where students gained insight into corporate social responsibility, entrepreneurship, and sports marketing from successful practitioners. They traveled to downtown Bethesda, Maryland; D.C.'s Adams Morgan neighborhood; and the city's developing waterfront community.
"It was a great opportunity to learn more about possible internships and jobs I might be interested in," said Matt Augustine, BSBA '16. "It was also a good way to get to know the city a little bit better, especially how to get around."
Capital Connections is one of many ways students can get involved at Kogod. Visit the Kogod Leadership and Applied Business (K-LAB) website to learn more about upcoming opportunities.