Research
Research Center Provides Opportunity for Idea Exchange With Professionals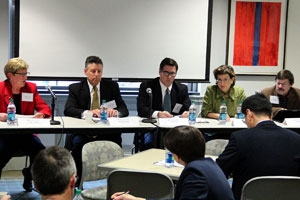 Where else are you going to see Big Brother and Little Brother on the same panel discussing data privacy?
Nowhere aside from the Kogod School of Business, in Mike Carleton's view. Specifically, at discussions hosted by the Center for Information Technology and the Global Economy (CITGE), which aims to bridge the gap between the public and private sectors, between those who provide and produce new technology and those who use it on a massive scale.
"No place is better suited for … CITGE than D.C.," said Carleton, a senior research fellow at CITGE and retired chief information officer for the U.S. Department of Health and Human Services. "There's such a rich blend of government, business and academic resources here and CITGE takes advantage of that."
CTIGE, which is staffed by Kogod professors and resident researchers, uses its unique D.C. location to bring together the private and public sectors through the study of emerging technologies.
Breaking Down Silos
CITGE, under Executive Director Bill DeLone and Director Gwanhoo Lee, is more than just an academic research center. Regular discussion panels bring together professionals and academics to learn more about current issues affecting the industry, such as the "Privacy, Data Governance and the CIO: Big Data and Other Challenges" panel on February 22.
"These events are so unique and so beneficial to everyone here," said panel attendee Oliver Smith, a data warehouse architect with Navy Federal Credit Union. "We're all connecting to other groups and learning from one another."
In addition to keynote speaker Jules Polonetsky, co-chair and director of the Future of Privacy Forum, the event featured a panel discussion with current and former privacy officers for organizations such as the Graduate Management Admission Council, IBM, and the Department of Homeland Security.
"It's been such a thought-provoking afternoon, I've been exposed to so many new ideas," Smith said.
Looking to the Future
In keeping with the theme of security in the digital age, CITGE's privacy panel will be followed by a cybercrime and espionage discussion in April.
"The changes in technology and privacy and security just go on and on," said CITGE research fellow Mary Culnan. "Just when you think you've seen it all you haven't: that's why these discussions are so important."