Business
Getting Egypt Back in Business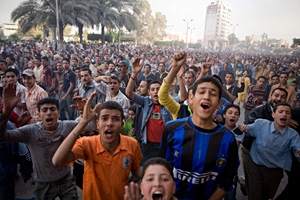 Once boasting fast growth in multiple sectors, more than two years of political turmoil have devastated Egypt's economy. Restoring growth opportunities and encouraging healthy business is critical to dealing with high unemployment in the country, according to Assistant Professor Ayman Omar, an expert in international business and an Egyptian native.
Before the Fall
Before the 2011 revolution, the Egyptian economy had grown between five to seven percent annually for several years. It offered a stable environment to local businesses and foreign investors.
Seeing the economic growth benefit only a small segment of affluent Egyptians was a major factor in the growing civil unrest—particularly among the unemployed youth—according to Omar.
"The lack of economic opportunities, coupled with other social issues, was one of the main drivers of the revolution," he said. "A large segment of the population was under the poverty line and the middle class was small."
In 2011, mass protests led to the overthrow of President Hosni Mubarak. The country's first democratic election took place in 2012, allowing the Muslim Brotherhood to come to power after eighty years of operating underground. But instead of addressing current economic conditions, the group focused on grabbing power across all state institutions, through legal and illegal means, pushing the economy into a free fall.
"The new government [under new President Mohammed Morsi] was ill-equipped to deal with major business and economic decisions," said Omar. "They failed to encourage any businesses or investments—on the contrary they took one decision after the other that led to business scrambling out of the country. There was mismanagement of resources and the country [ran] on low foreign reserves."
According to the United Nations, approximately 13.7 million Egyptians, or 17 percent of the population, have experienced food insecurity since 2011. The official unemployment figure soared to 13 percent this past June.
As economic conditions worsened, the Egyptian people became increasingly frustrated with their new government, according to Omar.
"Instead of addressing economic problems, the [Muslim Brotherhood] and their appointed government focused on building up unprecedented political power and immunity from all laws" he said.
In July, millions of people took to the streets to protest and the Egyptian army stepped in to prevent a civil war.
Restoring Stability
Since the military stepped in, Egypt has plunged into a battle between the government forces and the supporters of the Muslim Brotherhood, with casualties on both sides.
Omar believes a strong police response to all illegal and terrorist activities is essential to restoring order, stability, and safety.
"The country has been in a free fall since 2011. We need a safe and stable environment to promote businesses and foreign investment, as well as to ensure the safety of the citizens, tourists, and investors," he said.
There are some positive signs. In October, the Egyptian stock exchange, EGX30, rose above 6,000 points, a level not seen since before the 2011 revolution.
Before the 2011 revolution, Egypt was a safe choice for foreign investment with several multinational companies, including Procter & Gamble, Mars, Mercedes Benz, and BMW investing billions over the past two decades. Getting back on this track, and avoiding the mistakes of the past, is key to getting Egypt back in business, according to Omar.
"Egypt has huge potential for economic growth. The country's proximity to Asia and Europe can be leveraged to create a free trade zone," he said.
Creating Equal Opportunities
New economic opportunities are critical to stabilizing the country, according to Omar, especially for the unemployed youth of the nation.
"This young workforce has to be engaged in different areas: small businesses, the government, and multinational companies," he said.
Omar also believes that addressing corruption, as well as providing better access to education and healthcare, will have a positive impact on economic opportunities.
"The long-term goal is to build a more competitive business environment and a larger and thriving middle class," he said.