Business
MBA Team Selected to Compete for Clinton Global Initiative-Backed Hult Prize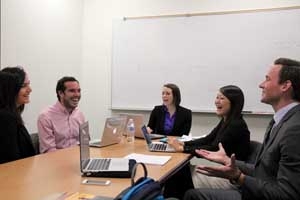 "Can we build a social healthcare enterprise that serves the needs of 25 million slum dwellers suffering from chronic diseases by 2019?"
This simply-put question is the overwhelming launch of the 2014 Hult Prize President's Challenge, a sustainable enterprise competition with a $1M prize backed by the Clinton Global Initiative (CGI). And it's a challenge a team of five first-year Kogod MBA students are meeting head on, after advancing to the semi-final round of competition.
But where to begin with such a broad and multi-faceted problem? Disease prevention and education? Medication delivery and distribution? Which disease is even at the heart of the problem? Diabetes? Cancer? Asthma?
Kesang Chungyalpa, Nicolás Delvasto, both MBA '15, Harrison Wagenseil, Erin Davis, both MA/MBA '15, and Kate Large, JD/MBA '15, aren't sure yet, but they're confident they'll have a plan by the time they travel to Boston in March, when they will compete in the semi-final regional against approximately 300 other teams.
Getting Started
The team formed last fall, after Large learned about competition at the annual Net Impact Conference.
"It sounded like a really exciting and cool opportunity, and I knew [Kogod] should take a crack at it," she said.
Large returned to D.C. and began talking with her classmates and soon had the other four on board. They submitted their resumes and crafted a statement of purpose regarding the case. Then, just before winter break, they learned they'd made the cut—out of more than 10,000 applicants—to the semi-finals. Six cities around the world will host approximately 50 teams each for this round of competition.
"It seems like it happened very rapidly," said Davis. "It's obviously a very fast-paced competition, but it's kept us on our toes."
Planning for March
Since learning of their selection for the regional finals, the team has spent nearly all their time researching global healthcare and disease treatment and prevention. They've read everything they can find on the subject and spoken with dozens of contacts in the field.
"Everything in my life right now finds its way back to healthcare," said Delvasto. "It's like I see a new potential solution everywhere I look, and I can't wait to bring that back to the team."
In addition to meetings twice a week, the five are constantly in contact throughout the day, emailing links to articles and chatting between classes and working with their faculty advisor, Professor William DeLone.
"It"s really been amazing how our daily coursework has been applicable to this challenge," said Large.
The team members have international backgrounds and are leveraging that. All five have either lived or worked abroad in the past.
Delvasto and Chungyalpa have been in contact with friends and colleagues in their native Colombia and India, respectively. Both Wagenseil and Davis are dual-degree students in AU's School of International Service and have been meeting with professors there as well.
"We're meeting with anyone who will sit down and talk with us," Large said. "Whether we discuss how Big Data is being applied to patient care optimization or how to make the medical supply chain more efficient, we're gathering as much information as we can."
Through Skype and phone calls, all five have been in contact with resources in the field with hands-on experience in slum conditions and in the global healthcare industry, helping them narrow their own focus.
"One of the hardest parts of this challenge is doing the research," said Wagenseil. "We're essentially stuck behind a desk, trying to figure out what the public health conditions in a Mumbai slum are really like."
"Right now it's all about leveraging any contact we can beyond D.C."
The Here and Now
"Now" is the key word for the team. Winning their regional pool in March would mean a summer spot at Hult's incubator for social enterprise in New York City and the chance to pitch their solution at the annual meeting of the CGI to President Clinton himself. But for now, they are trying to focus on getting to March.
"Just getting this far has been a huge accomplishment and we have so much more to get done before we head to Boston," said Chungyalpa. "We're taking this challenge very seriously and we really want to represent Kogod and AU well."
To share expertise with the Kogod Hult team, contact email them at kogodhultprize@gmail.com