Business
MBA Candidate Uses International Experience to Lead Discussion Group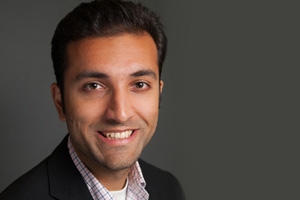 Engage in international issues. Take electives outside of your field of study. Participate in a service trip that opens your eyes to a new world perspective.
Aimal Ahmadzai, MBA '14, challenges Kogod students to do more.
"It's good to be a more well-rounded person, not just a numbers guy, but to care about the personal side," he said.
In addition to the core MBA curriculum, Ahmadzai has taken elective courses in American University's School of International Service that reflect his interest in global emerging markets, gone on a winter service trip to Israel, and is now co-facilitating a Dialogue Development Group through the Office of Campus Life's Center for Diversity and Inclusion, titled "Islam in America."
Ahmadzai's group is one of seven taking place this spring as a chance for students to share personal knowledge and experiences with their peers, broadening their awareness and understanding of international issues.
Bridging Cultures
As an Afghan-American born and raised in Northern Virginia, Ahmadzai became interested in Muslim-American affairs after the tragedy of 9/11.
"The resulting wars and domestic backlash against Muslims really shaped my interests," he said.
He will be co-facilitating a group of twelve participants on a seven-week discussion series about Muslim-American relations with Ian Schramm, MA/SIS '13.
The participants are a diverse group, representing multiple in ethnicities and religious beliefs, and include undergraduates, graduates and one staff member.
They will be discussing topics such as Islamaphobia, Gender Roles, and Assimilation, Coexistance and Integration.
Ahmadzai's goal is for participants to become a supportive community of peers, where the focus is on well-rounded debates meant to challenge big issues he believes are not properly represented.
"I think [participants] are going to get a lot of different perspectives, and hopefully for the better change their own, gaining a more broad understanding of the topic," he said.
Participants are challenged to participate and react to material given during discussions, such as relevant videos or current event articles.
Global Thinking
After Ahmadzai took a course in Applied Conflict Resolutions last fall and participated in a Dialogue Development Group himself, SIS Professor Ron Fisher recommended he lead a group of his own.
Last summer Ahmadzai studied Muslim-American affairs as a political and economic intern at the U.S. Embassy in Dushanbe, Tajikistan, an experience that only increased his passion for understanding the human condition and that gave him the motivation to take the plunge and become a group leader.
"[In Tajikistan] I saw the different perceptions many Muslims have about Americans. [Muslim-American relations] are not as plain black and white as the media portrays it," he said.
"It's not anti-American to be Muslim and it's not anti-Muslim to be American, [they] can coexist."
He takes Kogod's vision statement that profit and purpose are not at odds one step further by challenging students to get involved on campus.
"I think alternative break trips and dialogue facilitation groups are a way of implementing more of the purpose side."
After graduation, Ahmadzai hopes to use his MBA in an anti-corruption or international development role, saying his international travel experiences have only furthered his interest in international affairs.
"I'm pro breaking the [business] bubble; there's so much good stuff out there," he said.