Business
New Entrepreneurship Initiative to Include Student Incubator, Venture Fund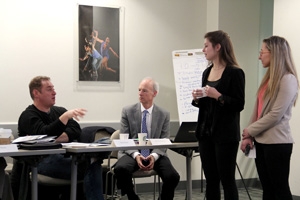 The theoretical only goes so far when learning some skills. Launching a business—growing a company from idea conception to business proposal to filing that first tax return—can only be experienced.
That's where Kogod's new Sustainable Entrepreneurship and Innovation Initiative (SEII) and start-up incubator come into play.
Unveiled this spring, the Entrepreneurship Initiative's mission is to expand Kogod's dedication to sustainable business practice through a combination of research on sustainable business practices and environmental advocacy and the implementation of a new venture incubator.
"The Initiative is really about harnessing the power of entrepreneurship and focusing on ventures that really create economic, environmental, and social progress—the true meaning of sustainability," said Professor Stevan Holmberg, executive director of the Sustainable Entrepreneurship and Innovation Initiative.
Kogod has been dedicated to encouraging young business ventures since offering its first entrepreneurship course in 1987. The school added an Entrepreneurship minor last fall, and has offered related courses at the undergraduate and graduate level for years.
"Entrepreneurship is one of the key drivers of the U.S. and global economies," said Michael Ginzberg, dean of the Kogod School of Business. "With our great history of entrepreneurship within our alumni community, I am already witness to a groundswell of support."
Room to Grow
At the heart of the project is the Incubator—a co-work space for young ventures to develop—conveniently located on campus in the Mary Graydon Center.
The Incubator will match students and young alumni from across American University with a business mentor and provide them with modest seed money and space to get their business off the ground. Teams will work with their mentors to get their product off the paper and into consumer hands.
"We're really trying to provide an environment open to all of AU where venture ideas can become a reality," Holmberg said.
Serving as co-directors of the Incubator are Executives-in-Residence—and experienced entrepreneurs—Bill Bellows and Tommy White.
"Our goal with the Incubator is to really give these budding entrepreneurs the space and the resources to focus on building a successful product," White said. "Kogod already has a lot of great curriculum in place to teach the building blocks of writing a business plan and identifying a consumer base."
Once a venture is beyond the initial conception stage, teams may apply for modest seed capital from the Kogod Entrepreneurship Venture Fund (EVF). Designed to be self-sustaining, the Kogod EVF will be built not only on donations, but also on returned contributions from funded ventures that go on to find commercial success.
Students will also benefit from Kogod's new partnership with 1776, a local company dedicated to providing resources and support for new businesses.
Currently under renovation and expected to open to teams by the end of the semester, application to the Incubator is now open to the AU community: current students, both undergraduate- and graduate-level; and young alumni.
Sage Advice
Helping to guide the Entrepreneurship Initiative is an advisory council with strong personal histories of entrepreneurial success.
"I'm very excited about [the initiative], it's one of the most exciting things I've seen come out of Kogod in a long time. There's lots of energy behind this," said Mark Bucher, BA/SPA '90, and founder of multiple D.C. restaurants, including BGR: The Burger Joint and Medium Rare.
For many, their seat on the advisory council is a way to give back to the business community and to AU.
"I started my business because of AU and all that I learned here. I never stopped learning [after school] and I'm excited to be on this council and see how I can help today's students," said George Assimakopoulos, MBA '95 and vice president of Penton Digital Media Services.
These seasoned entrepreneurs know first-hand the importance of starting off on the right foot with a new venture.
"This is the perfect format for today's students to gain real-world experience when it comes to starting a business. It's going to give them a good dose of reality before they hit the ground running [after school] and that's an amazing gift," Bucher said.