Business
Up, Up and Away! Students Prepare for Professional Success at Career-Con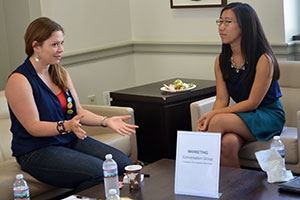 It's a bird. It's a plane. It's...a room full of students ready to take on the professional world.
Career-Con, an annual career search preparation event sponsored by the Kogod Center for Career Development (KCCD), took place Saturday, September 6. One of the KCCD's biggest events of the year, the day of workshops allowed undergraduate and graduate students to engage with employers and KCCD staff in a casual setting.
"A lot of our other events are more formal, so we wanted [Career-Con] to be a very accessible event," said Andrea Carpenter, career management advisor for the KCCD.
The event allows students to learn about their career interests and needs in a low-pressure environment, according to Carpenter.
Participants could attend five sessions and a lunch, with topics ranging from interview preparation to professional body language.
During lunch, students snacked on sandwiches and chatted with industry professionals. Representatives included IBM, The American Red Cross and Uber, among others.
Alma Alvarez, BSBA '18 enjoyed the "No Secret Identity" session, a 15 minute exploration of each student's values and interests.
"[I liked] meeting new people and getting more knowledge about the future," she said of the event.
Christopher Kalna, BSBA '08, manages IT strategy and innovation for the Carlyle Group. He spoke with students interested in the industry.
"I hope they got a good understanding of the different ways IT helps companies, whether internally or externally, and I hope they at least made some new connections today," Kalna said.
Formerly called "Careerpalooza", Career-Con was inspired by Comic Con, down to the party's decorations, including a cardboard superhero cutout for photo opportunities.
Jeffrey Williams, BSA '17, appreciated the event's laid-back vibe. His favorite session was the "Starting your Fandom: Accounting & Finance Day Prep."
"[Professionals] gave some insight on what not to ask from an interview and prepping for that," he said.
KCCD peer consultants Olivia Montague, BSBA '15, and Maeghan Crociata, BSBA '15, helped prepare Career-Con and guided students through the day.
"The first session was an advising session, so we were able to give cover letter and resume review help and answer questions related to that," Montague said.
Crociata said Career-Con also benefitted graduates students because they could "see people in their industry who are the same age or maybe just a little bit older so that they can aspire to do the same thing."
Future KCCD events for the year include industry days, on-campus recruitment days, and corporate information sessions.