Business
Ernst & Young Executive Talks Global Accounting at Kogod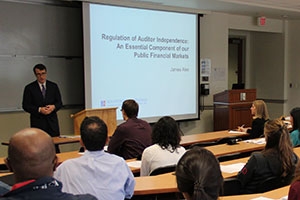 Kogod's new Business in the Capital event series kicked off September 19, with James Alex, a principal accountant with EY, formerly Ernst & Young LLP, addressing the changing world of accounting auditor independence.
Tapping into the Business in the Capital pillar of Compliance and Regulation, Alex's talk showcased Kogod's commitment to business in the nation's capital. Other pillars of the series are Health and BioTech, Business to Government, and Entrepreneurship and Tech.
Alex admitted that the topic might seem dry, but said auditor independence rules are "profound in terms of how we operate as a firm." Accounting titans rank auditor independence among their top three worries, he said.
They fear the high risk of auditing, a service that accounts for about 40 percent of a firm's revenues—breaking auditor independence rules can result in major fines for a company. As the regulatory landscape shifts, these intricate rules will be harder to manage, Alex believes.
Already the European Union has passed laws that stretch auditor independence. A key component is mandatory auditor rotation. European companies have to hire new auditors every 10 to 24 years, depending on the business.
Many U.S. companies with European divisions will also follow these rules. With only a small number of global accounting firms like EY, Alex thinks it might be difficult for companies to rotate auditors.
Jessica Davis, BSA '16, appreciated the opportunity to learn from a top accounting professional.
"I thought it was very well articulated and easy for students to understand," Davis said of Alex's presentation. New European regulations especially interested Davis.
"It will be interesting to see how that plays out with strengthening [big accounting firms], or weakening them, allowing other smaller firms to rise up and become stronger," she said.
The Business in the Capital events series will continue throughout the academic year, connecting the classroom to the boardroom in the nation's capital.