Business
Tweeting with the Stars: Kogod Students Boost Local Musicians to New Heights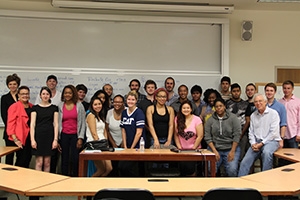 Artists at the Music Center at Strathmore can compose, perform, collaborate, and entertain an audience. But can they tweet?
"I've been singing my whole life, but I'm working on my twittering," jazz pianist Mark Meadows said to a room full of Kogod students.
Located in Bethesda, Maryland, Strathmore nurtures young artists and pushes them out of their comfort zones. Like his fellow Artists in Residence (AIR), Meadows may not have social media skills, but that is where Kogod's Representing Talent: Managers, Agents and Lawyers (MGMT-303) course comes in to play.
Students in the class, a required course for students in the agency track of the Business and Entertainment (BAE) program, dive into the day-to-day lives of entertainment professionals.
They will learn first-hand what talent managers, well, manage. Six student groups work with six AIR musicians to help boost their careers through brand awareness, outreach, and other business goals.
"I think [the project] is a little scary because we are dealing with someone's career, [but] I think it's going to be really interesting to get first-hand experience as to what managers and agents work on everyday," said Mandy Shimizu, BAE '16.
Shimizu and her classmates will create press kits, flyers and other materials to help the AIR musicians. Students will analyze the artists' online presence and make suggestions to improve their websites, videos, Twitter accounts, and other digital platforms.
Stephanie Deischl, BA/SOC '15, loves the chance to "get to know a totally different field", apart from her typical public relations classes. Deischl was among the first to register for a minor in Business and Entertainment.
Working with mentors, AIR musicians experiment with genres they do not usually try. For Meadows, this means singing without a piano.
"I don't know what I'll do with my hands," he joked to Professor Simson's class.
"Like everyone [here], I don't really belong to one style only," AIR guitarist Cristian Perez said. The Argentinian musician pulls inspiration from around the globe, from Indian sitar to Japanese harp.
Faculty Program Director of the BAE John Simson was inspired to start this partnership after he guest-lectured for Strathmore. He realized the young musicians needed management help.
"Some of the artists were asking for assistance with press kits, writing bios and the kinds of things that a management team would handle," Simson said. He approached AIR director Betty Scott with the idea for a partnership with his class.
"She spoke with the artists, and they were enthusiastic, so we're moving forward to see how it works," Simson said.
Students will be graded on the publicity materials they create for the Strathmore artists throughout the semester, and teams will deliver final presentations at the conclusion of the project in December.