Business
It's Official: Kogod Incubator Now Open for Small Businesses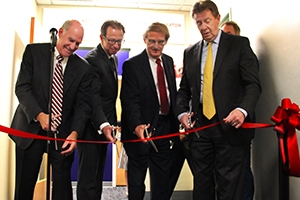 American University President Neil Kerwin and Provost Scott Bass joined Kogod Dean Erran Carmel and Professor Stevan Holmberg, director of Kogod's Sustainable Entrepreneurship and Innovation Initiative, to cut the ribbon on the university's new small business Incubator on Friday, Sept. 26.
Five teams of AU students and alumni will be using the Incubator this year. In addition to a physical space in which to work, teams in the Incubator receive mentor guidance and support. The teams are:
Agora: a digital communications company, bent on providing webinar experiences based on virtual reality.
Qoral Tech: a computer design company that will provide low-wattage, energy-efficient workstations to the workforce.
unFused: a free tutoring service that pairs high school students with college students for online conferences.
Lightcharge: a technology company with a goal of providing a better charging solution for all smartphone users.
SquadBuilder: a platform development company, creating a better way for student startup ventures to connect with like-minded innovators.