Business
Kogod Hosts Global Experts at Sovereign Wealth Funds Conference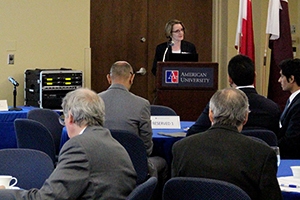 The Kogod School of Business hosted an international conference on Oct. 9 to discuss sovereign wealth funds (SWFs), investments owned by governments.
The one-day-conference, The Contributions and Impact of Sovereign Wealth Funds, allowed experts to share their views on the shifting global economic climate.
"Academics must start vital conversations about SWFs," said Kogod Executive-in-Residence and event organizer Ghiyath Nakshbendi. "Their impact on the global economy cannot be overlooked."
Nakshbendi also noted the crucial timing of the conference. As the annual International Monetary Fund and World Bank meetings begin, now is the time to explore pressing business issues, he said.
Speakers at the conference included Carol Bertaut, chief of the Global Financial Flows section in the International Finance Division of the Board of Governors of the Federal Reserve System; Mohammed Jaham Abdulaziz Al Kuwari, ambassador of the State of Qatar; and former U.N. analyst Celeste Lo Turco.