Business
Kogod Alum Launches Career with Raytheon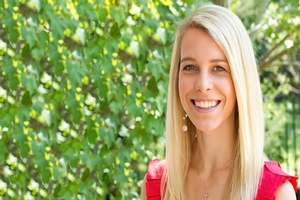 A recent Kogod graduate hopes to learn in two years what some professionals learn in ten. 
Eliza Morgan, BSBA '13, works for technology leader Raytheon as a member of its Financial Leadership Development Program (FLDP). This elite opportunity allows a select group of young professionals to navigate four Raytheon finance roles in two years. 
"I now have multiple perspectives rather than coming into one role, one type of finance. I'm getting the whole picture," Morgan said. 
She started at the core of the company, working on its defense products. Conducting cost, profit and other analyses, Morgan learned the ins and outs of Raytheon Missile Systems. In her second FLDP role, Morgan worked in Financial Planning and Analysis with Raytheon's Space and Airborne Systems (SAS).
Morgan now works for Raytheon's Corporate team. As a member of the Global Business Services group, she helps create a more efficient, global company. She expands her knowledge every day. Morgan will bring this enthusiasm for growth to selecting her final FLDP rotation before finishing the program in July 2015.
"I'm excited about what the future holds at Raytheon," she said.
Raytheon helps prepare its FLDP participants for being leaders in their careers beyond the program as well. The FLDP organizes finance and leadership training sessions, which continue throughout the two years. Morgan has found this unique aspect an incredibly valuable piece of the program.
During one challenging project, she helped prepare a presentation for David C. Wajsgras, Raytheon Senior Vice President and Chief Financial Officer and Kogod alum, MBA '89. The presentation covered financial highlights and performance for the SAS business and was well received by the Corporate Finance team.
"Hearing positive feedback from him [Wajsgras] as well as my team and leadership was one of the highlights of my time here," she said. "The entire assignment was an incredible learning experience."
An active member of the Kogod Advisory Council, Wajsgras asked Morgan how she felt about Kogod. 
"I told him I couldn't imagine a better place to have earned my degree, and he was really excited to hear that," Morgan said. 
Morgan benefitted from Kogod's close relationship with Raytheon, a top recruiter of AU business students. She discovered the FLDP through the Kogod Center for Career Development's website. This led to on-campus and follow-up interviews with Raytheon and her eventual acceptance into the program. 
"I learned a lot about Raytheon through Kogod. It doesn't surprise me that it was so easy to go from Kogod to Raytheon," Morgan said. 
She credits her career success to a stellar foundation from Kogod. Taking the lead in Kogod class projects, Morgan now steps up in the workforce. The scholar athlete also took charge on the lacrosse field at AU. 
"I'm expected to be a leader [at Raytheon], and that is not easy if you don't have practice doing it. I'm not nervous to speak up in a meeting even if I'm brand new," she said. 
Morgan's advice to college students?
"Get uncomfortable. If you feel uncomfortable then it's right. You challenge yourself to grow," she said. This attitude, along with giving "110 percent every day", has propelled Morgan through her still-young career.