Business
Social Media Experts Divulge Insider Tips to Kogod Students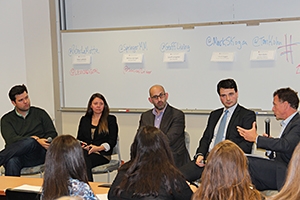 Social media is more than just selfies and hashtags, it's a powerful tool that businesses should take seriously.
"Whether you like it, think it's transformative or think it's annoying, you have to play ball," said Mark Kogan,JD/WCL '12, manager of a boutique public affairs firm, Ward Circle Strategies.
Kogan and other leading social media professionals from the area discussed their experiences at a recent Kogod Business in the Capital event, "How to Use Social Media Effectively in Business." The panelists discussed social media best practices to an audience of Kogod students.
"The role businesses should and can play in social media is to join conversations already happening and participate in ways that make sense," said Melissa Springer, vice president of client strategy at digital promotions agency Social Driver.
If executives do not see the value of social media, Springer said employees should show their reluctant bosses that people are talking about them online whether they like it or not. Businesses should be part of the digital dialogue, not ignoring it, Springer said.
These online conversations are particularly important during a crisis, according to LEVICK PR Senior Vice President Peter LaMotte. In the case of a product recall, social media can "protect, prevent, and fix" problems, LaMotte said. He suggested that in this case a company's CEO could apologize quickly on social media for the defective items.
Geoff Livingston, BA/CAS '94, founder of media strategy company Tenacity5 Media, described the importance of creating a "live moment" to inspire social media interaction with brands. A point well taken since, as the panelists spoke, audience members tweeted about their insights in real-time, using #AUTalksSocial.
As important as an online presence is to a company, Kogan stressed that social media is not "the most critical part" of a business strategy.
"It plays a role in a broader communications effort and in a brand building effort," he said.
LaMotte described this broad strategy as a "soup of communications" that includes "old school PR", advertising and, of course, social media.
Rose Friedlander, BS/CAS/BSBA '17 found the event "incredibly enlightening". She hopes to apply these insights to her work as internet marketing director for AU Ambassadors, a group that helps prospective students.
"They mentioned two huge aspects of what was helpful when looking for jobs, which is know how to write really well and also understand social media [beyond] just what it is and how to use it," she said.
Executive-in-Residence Thomas Kohn, who organized the event, chose social media as a panel topic because his students engage with it everyday.
"Doesn't everyone want to work in a field that is genuinely interesting to them and something they might do anyway?" Kohn said.