Business
A Feather in Their Caps: Patriot League Honors Kogod Field Hockey Stars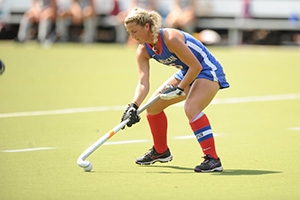 Four years ago, field hockey defender Rebecca Treharne BSBA '14/MSSM '16 sat in Head Coach Steve Jennings's office, meeting her teammates for the first time. The Wales native had flown across an ocean to be there and before she knew it, her time as an AU eagle drew to a close.
Again in Jennings's office last week, this time as a graduating senior, Treharne turns to her freshman teammate Angela Virtu, BSBA '18.
"I would just try to capture every moment you can," Treharne advises her fellow defensive player. "Probably it doesn't mean anything to you right now, but just take advantage of everything you can now because it goes by so quick."
The two Kogod student athletes received accolades from the Patriot League after the close of this season. Treharne was chosen as a unanimous first-team pick. This honor highlights her as one of the top 11 players in the league. It is an especially significant award for Treharne, since most defenders slide into the background in favor of higher-scoring positions.
On the other side of the defensive line, Virtu closed the season as the league's Rookie of the Year. Jennings said Virtu's "fearless" style on the field and Treharne's ability to always "dribble her way out of trouble" helped the student athletes stand out from their competition.
Family Traditions
Virtu does not believe she won the award on her own. For her, the recognition reflects not on her as an individual player but on the team as a whole.
"Everyone here pushed me and formed me into who I am and formed me to become the Rookie of the Year in a way, so I think [the award is] just the accumulation of all our team's hard work and our investment in each other," Virtu said.
Treharne also embraces the team's unity and describes her fellow players as her family. The athletes even have "family" traditions passed down through the years. Treharne slides her fingers over her silver bracelet and explains the significance of the metal feather hanging in the links of the chain circle.
"This is what we got on my senior day," she said. "Obviously, we're the eagles, so people tend to have a feather just to remind them of [AU]."
Sustainable Education
She may have received her feather, but Treharnes's time at AU is not over yet. She will continue her Kogod education in the Master of Science in Sustainability Management (MSSM) program.
Having already taken classes as an undergrad that count towards her master's degree, she said her passion for renewable energy led her to the MSSM. Treharne may return to the U.K. to explore tidal energy — a green, cutting-edge power source drawn from natural ocean tides and currents.
"I feel like I have a creative mind, so I would like to try and design some new renewable technology that would help the energy crisis," Treharne said.
Full-Time Students, Full-Time Athletes
Treharne remembers winning the Patriot League tournament on home turf last year, her fondest memory of her four years with the team. AU field hockey achieved another impressive feat in 2013, as the student athletes earned the highest GPA of any Division I field hockey team in the country.
"It's a remarkable testament to how much they want to be excellent in everything that they involve themselves with," said Jennings. "Their performance in the classroom is really remarkable especially when you consider all the demands on their time with our team training and team travel, so they've done an amazing job."
Treharne compared balancing schoolwork and field hockey to having two full-time jobs. Virtu said this means she and her teammates "go at it 100 percent all the time", pushing themselves to their limits in the classroom and on the field. Still, Treharne graduates with no regrets.
"I really, really enjoyed it, and I wish I was a freshman again to go through all that [all over again]," she said.