Business
Not For the Faint of Heart: Whistleblower Impresses Difficulties of Fraud Investigation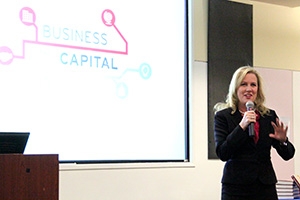 Good people can make bad decisions.
They don't correct the cashier when they receive too much change. They can drive home after one drink too many at dinner. Or they can keep quiet when something seems wrong.
Good people keeping quiet is how individuals become complicit in crime, particularly white-collar crime, according to Cynthia Cooper.
Cooper, a former vice president of WorldCom and a fraud whistle blower, shared this assertion at Kogod's Annual Lecture on Fraud and Forensic Accounting last month.
"Not standing up to pressure from above and going along with improper requests is the first step down the path," Cooper said. "And when individuals don't have their own moral code, their own sense of ethical behavior to stand on, that's when bad decisions can have lasting effects."
Blowing the Whistle
In 2002, Cooper led her team of internal auditors at WorldCom, the largest long-distance telephone provider at the time, in uncovering billions of dollars' worth of fraud. Their investigation and findings turned out to be the largest case of corporate fraud in U.S. history to that point.
According to Cooper, taking the lead on an investigation at her own company, headquartered in her own hometown of Clinton, Mississippi, was one of the most difficult things she's ever done.
"These people [we investigated] weren't strangers. They were members of our community; our neighbors, members of our church," she said. "It made it difficult to separate our emotions from the facts, but that's what we had to do."
Learning to trust the facts and to develop a personal code of conduct is what got Cooper through the investigation and its fallout. It's this personal code that she impressed upon the audience more than anything else.

"Just like corporations have mission statements, so should individuals," Cooper said. "It's important to think about what you want your life to mean and use that to define your values and live by them."
"When people go against their personal values, that's when their lives start to unravel from the inside. That's what we see happen in so many cases of white collar crime."
Rethinking Fraud
Cooper's frank discussion of life as a whistleblower and how she found herself leading an investigation as an internal auditor opened the eyes of several in the audience.
"Before tonight I'd always assumed I'd get my CPA [license]," said Jessica Castrignano, BSA/MSA '16. "But now I'm going to look into getting a Certified Fraud Examiner [license] as well."
Castrignano wasn't the only student to begin rethinking career options. First-semester accounting student Sahilen Shah, BSBA '17, had never given much thought to the roles of internal auditors or even accountants beyond tax season.
"It was really fascinating to see such tangible applications of accounting and especially of a type of accounting I had never heard of before," she said.
Getting young people to start asking questions and be interested in uncovering the truth is Cooper's goal.
"My hope is that [my talk] is just the beginning of the conversation," she said. "This is the next generation of fraud examiners and accounting professionals; we need them to keep thinking about these hard decisions."