Business
Kogod's 60th Diamond Anniversary: The Mervis Family Difference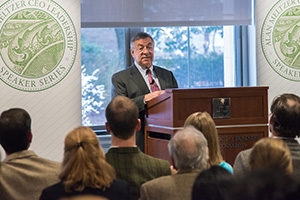 Diamonds are much more than bubbles of carbon hardened into solid crystal, says Ronnie Mervis, Co-Founder and CEO of Mervis Diamond Importers.
"The diamond is the ultimate symbol of love. Love is the reason for the diamond industry."
The diamond has long been a cultural sign of love, marriage and stability. The decision to purchase is an emotional one, which is what brings clients in love to spend money on what may be one of the most meaningful purchases of their lives at Mervis Diamond Importers every day.
On January 21, Mervis, kicked off the celebration of Kogod's 60th, or Diamond, Anniversary as part of the Alan Meltzer CEO Leadership Speaker Series, speaking on "Reflections on the Diamond World: Reality or Perception?"
The Mervis Family Difference
When Ronnie Mervis and his brother, Zed, decided to expand the family business from South Africa to America, they started with virtually nothing. What first began as a small business, bringing in one diamond at a time slowly turned into a diamond wholesale business. However, the brothers soon decided retail prices were too high and took a risk that ultimately launched their success, changing the way diamonds are sold.
"We decided, no one pays retail anymore, why should you," said Mervis.
The Mervis brothers went against all conventional business wisdom and opened up destination offices, focusing on the luxury experience of buying a diamond. Client consultations are appointment based only, and sales associates are trained to educate their clients based on their personal needs. They market themselves as super specialists, selling diamonds only—not jewels or watches.
"We went against all conventional business wisdom, embraced the taboos and it paid off," he said. "Someday all diamonds will be sold the Mervis way."
In addition to its flagship location in Tysons Corner, Virginia, Mervis Diamond Importers has locations in Washington D.C. and Rockville, Maryland.
"We're in a happy industry. The only incurables we deal with is the incurable romantic."
Mervis Diamond Importers has sent 50,000 brides down the aisle with their diamonds.
Advise to young business people
As the nature of the diamond industry changes with Internet competition, Mervis remains confident that the only way to secure the best quality for the best price is to buy diamonds in a physical store. However, the company does look to adapt to online advertising and social media to deliver their company message.
Jonathan Mervis will be the third generation to continue growing Mervis Diamond Importers, and is currently working to expand the company's online marketing presence. His YouTube channel features videos where Ronnie explains many common questions about the diamond buying process.
Ronnie Mervis is also a staunch advocate of radio advertising, crediting the power of telling his own memorable stories as the best form of advertising. Mervis writes, records, and produces his own radio ads that are known around the Washington D.C. area.
For young entrepreneurs, Mervis closed his speech with advice of finding your passion, no matter the job description.
"Make sure that whatever you do, you love it," he said. "Make sure that you are the diamond that sparkles the most."