Business
Global Learning Trip Provides First-Hand Experience in International Business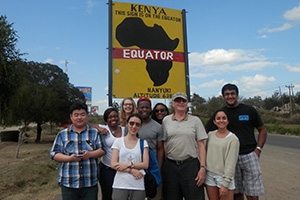 Kenya has a GDP of $55.24 billion, according to the World Bank. Conversely, the U.S. GDP is $16.7 trillion, exponentially larger.
A group of 15 Kogod students, both graduate and undergrad, visited Kenya as part of an AU study abroad business experience and saw this disparity first-hand. Part of Kogod's IBUS 244/744 course offered every year, the students traveled to Kenya to observe and experience an accelerated economic development of an emerging market.
Business in Kenya 
During the trip, which lasted from January 3-10, students visited Vision 2030, Nation Media Group, KenGen's Geothermal Plant, and Safaricom, the leading mobile network operator in Kenya, among other sites of interest.
Travel is preceded by several on-campus class meetings to learn about the business environment of the region and begin research on the companies the group will visit, along with preliminary work on the research projects the students complete upon return from the program.
Ritanch Hans, MSSM '15, described KenGen's Geothermal Site visit as his favorite business experience.
"While the site is very expensive to manage and operate, it is much cleaner and a more renewable energy than oil or coal," Hans said.
Christopher Evanson, BA/SIS '15, Kogod minor, spoke about his experience with money and commerce in Kenya. He discussed M-pesa, a micro-financing service.
"M-pesa allows you to deposit money stored on your cell phone and transfer money through secured messages," said Evanson.
For Professor Tomasz Mroczkowski, the faculty advisor on the trip, these two businesses were perfect examples of Kenya's ingenuity.
"We saw a broad range of ideas and achievements from the Kenyan businesses," he said. "Each of them was well-adapted to the country and its needs and that's what these trips are for."
In the past, Kogod has offered IBUS 244/744 trips to Asia, Latin America, Europe, and the Middle East, but this was the school's first program in sub-Saharan Africa. Mroczkowski has led more than a half-dozen of these trips, but the experience in Nairobi was one of the best.
"There was a kaleidoscope of things to see and learn from, both for me and the students," he said. "From business to nature, society to culture, we experienced a great deal in a short time and it was an invaluable experience."
In addition to local businesses, the group also visited the Kenyan National Assembly, The Ol Pejeta Nature Conservancy, Hell's Gate National Park, and Lake Naivasha.
The Kenya program received a very large enrollment for a study abroad course. In addition to the array of businesses and cultural sites, the Kogod students also spent time at the American University AU Abroad Program office in Nairobi. 
"It was always my dream to go to Africa," said Hans. "If I can get class credit why not do it?"
Evanson, a veteran of the U.S. Coast Guard, said he never misses taking opportunities overseas to better immerse himself in the culture of the world.
"I'm very happy that AU offers an experience like this that allows us to go out and integrate with different communities, which is an experience that money can't buy."