Business
Teamwork on the Court and in the Classroom: AU Men's Basketball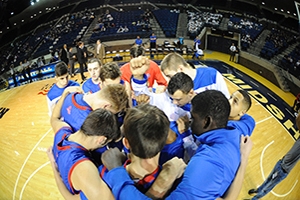 Business, much like basketball, is a team effort. Both require teamwork, value strong communication and depend on quick decision-making skills. Whether it's down to crunch time with seconds left on the clock during a game, or in the classroom, the AU Men's Basketball team is prepared for success.
"Kogod is a lot of teamwork and we're definitely used to that," said senior guard John Schoof, BSBA '15.
As a freshman, Schoof decided he had an interest in business and many of his teammates were also in Kogod. He ended up loving the classes and sticking with it, specializing in finance.
"When I was an underclassman my teammates would always help me out with what classes to take, what the specializations were all about, and I've tried to do that with the younger guys," he said. "I'll preach all good things about Kogod to the underclassman on my team."
Two-thirds of the AU men's basketball team are students in the Kogod School of Business, bridging the gap of teamwork on the court, to teamwork on the road and in the classroom.
Jesse Reed, BSBA '16, and 2014 Scholar Athlete of the Year, also sees the similarities between his teammates and classmates on and off the court.
"An athlete and a businessman are similar. It requires a lot of teamwork and a lot of networking—qualities of hard work and perseverance go on the court too."
Sophomore guard Charlie Jones, BAE '17, has found this support from his teammates in the same classes to be extremely helpful, especially when the team travels during the season.
"Sometimes we share notes and tips in classes, especially when we miss class. We help each other out to make sure we are on track and not falling behind," he said.
The business of entertainment is an area of interest for Jones, which makes delegating enough time to study and get it all done not a huge sacrifice.
Although the balance of full time student and full time athlete is no easy feat, Reed credits the support of Kogod professors who are willing to work with him and his teammates and always understand when they need an extension or to reschedule an exam.
"It's tough but rewarding being in Kogod and on the basketball team," said Reed.
A Community Behind Them
For the players, having the support of Kogod is a source of encouragement for them.
At This Saturday's home game against Bucknell, the school is sponsoring an Inaugural Kogod Appreciation Day in celebration of the upcoming 60th anniversary for the Kogod School of Business.
"I love the idea of the Kogod community game. There's nothing better than a packed game, it gives fuel to the fire. Especially coming from the Kogod community," said Reed.
"I think it's awesome, because we have so many guys on our team in Kogod and they help us out a lot. They are both understanding and supportive of us even after the semester they remember me, follow the team and ask how the season's going," Schoof said.
The game is also Senior Day, honoring the four seniors on the team—Pee Wee Gardner, BSPH, Kyle Kager, BSBA, Kevin Panzer, BSPH, and John Schoof, BSBA.
Join the Kogod community this Saturday, February 28th at 12p.m. in support of the reigning Men's Basketball Patriot League Champions as they take on Bucknell at the last home game of the regular season.
Admission to the game is FREE for all current Kogod students with a valid AU ID.
Tickets exclusively for Kogod faculty, staff, alumni and family members of current students are available at the discounted price of $7.50 for end zone seating and $15.00 for premium sideline.  
Buy tickets online at AUeagles.com/Tickets and use code Kogod15.
After the game join us for a casual reception with light snacks in Kogod. RSVP required by clicking here.