Business
Kogod to Launch Summer Institute for High School Students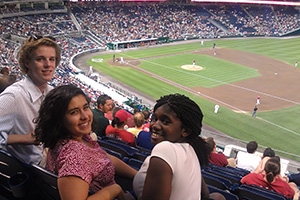 Today's teenagers have grown up in a world where media and pop culture are always just one click away.
Access to the sports and entertainment industries is faster now than ever before, thanks to the continued expansion of digital technology and media platforms.
But for every athlete or celebrity in the limelight, there's a team of business people behind them making it all possible. Kogod's new Summer Institute will give high school juniors and seniors a look at the engine driving these growing industries.
Kogod Summer Institute
From August 2-7, the inaugural Kogod Summer Institute (KSI) for rising high school juniors and seniors will provide students with a passion for the fast-paced world of sports and entertainment an inside look at these industries in the nation's capital.
The intensive one-week program will combine classroom experiences with site visits in the fields of sports entrepreneurship and the entertainment business. Students will also work throughout the week in small teams to create a business plan relevant to their track that will be presented at the closing ceremony.
The Tracks
Students will have the option to choose between a focus in Sports Entrepreneurship or Business and Entertainment.
Adjunct Professor Matt Winkler, a sports industry leader with more than 20 years of experience, will lead the Sports Entrepreneurship track.
"What makes the sports industry so interesting is that it's universal...so many people around the world can relate to it or have it in common," said Winkler in regards to the surge in popularity for the sports industry.
"It's been fascinating to see Washington, D.C. become one of the best sports and entrepreneurial markets in the country," he said. "...it features a diverse set of stadiums, owners, teams, and young stars...permeated by a creative technology and social media culture that can keep up with it all."
Students will have the chance to visit the Under Armour headquarters, as well as FedEx Field, Nationals Park, and ESPN Studios during the week.
John Simson, faculty program director of the BS Business and Entertainment (BAE) degree at Kogod, will direct the business of entertainment track. Simson has been involved in the Washington, D.C. music industry as an entertainment lawyer for more than 30 years and has seen first hand its growth as a vibrant market.
"In the past 30 years, Discover, National Geographic, BET and many other major networks have joined DC," Simson said. "It's important to have a presence here for lobbying purposes and for congress to be aware of artist rights."
Students with the business and entertainment track will visit National Geographic Television and speak with a producer about how shows are chosen to be on air, and learn how SoundExchange collects royalties for artists.
Building a Network Early
Winkler wants students to finish the program with an understanding of the importance of networking.
"Being engaged with a cohort of like-minded [individuals] is often the first step in getting a foothold in the industry," he said. "Despite ubiquitous access to the internet, access to the true enterprises and the people shaping the industry has never been more important."
However, a connection to industry leaders and connected professors is not a replacement for hard work.
"Many make the mistake that because these are attractive industries, they are not hard work," said Simson. "You really have to work hard to break in—start at the bottom and work your way up."
Registration for the Kogod Summer Institute is now open, with early bird pricing in effect until March 31. Contact Abby Moreau at abby@american.edu or 202-885-6693 with any questions.