Business
Kogod Alumna Jumps Into Career in Ski Industry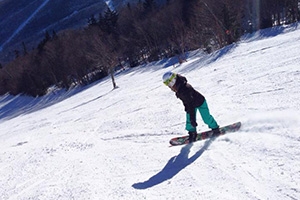 At the top of a ski slope, there are multiple ways to get down the mountain—the hardest part is making the first move.
For Kogod alumna Emily Young, BSBA '14, taking the risk to forge her own path by following her passion for skiing has resulted in a huge payoff.
Strategic Moves
Young grew up loving winter sports and surrounded by the ski industry near Blue Mountain, Pennsylvania. While at Kogod, Young realized she wanted to turn this passion into a career.
Young earned her BSBA degree and a specialization in marketing in a little more than three years, taking her last classes online over the summer so that she could be done in time for the upcoming ski season in 2014.
She moved to Burlington, Vermont—an ideal east coast ski destination nestled among multiple mountain resorts and Lake Champlain. Rather than search for jobs online and apply remotely, she moved to be just a short distance from possible employers, making her job hunt easier.
"For any job related to the travel industry, you need to make the move first," said Young. "The biggest thing to keep in mind is that a job might not be instantaneous with the move."
However for Young, the move was well worth the risk. By October, she was employed in the hospitality department of Sugar Bush Resorts. Her daily work includes lodging revenue management and front desk management for Clay Brook Luxury Hotel.
More Than a Textbook
While at Kogod, Young learned the importance of working with others, thinking critically and being professional in the workplace.
"Kogod classes are more than a text book—you learn to be a good employee, group worker, and networker," she said.
She credits her professors at Kogod for sculpting "professional personalities" that make alumni into standout candidates who are positive and confident with their skill sets.
Young was encouraged to pursue a career in the ski industry, even if it was not necessarily the typical path of a business student.
Finance professor and executive-in-residence Anthony Del Mar told her to "do what you love and love what you do."
"Being true to yourself keeps you energized and on -point as an employee," said Young.
Career into Lifestyle
Young's best advice for finding a career that doubles as a lifestyle: be self-aware and be coachable.
"Make decisions that align with your values as a person and don't confuse your own values with other's expectations," she said.
For graduates who are ready to make the move and break into a new industry, it is important to keep an open mind and be flexible to job options that you have never considered before. If a company's culture is a good fit, getting a foot in the door is more than enough.
"Hard skills are teachable, you can't teach being a good employee," she said. "Taking the plunge is not easy, but with the right personality you can be successful doing that."
Young is happy with where she is as a young professional, knowing when you work where you love, every day is a good one.
"A lot of times when I'm driving into work, I feel like I'm on vacation. Everyday is something new, and I don't see that ever getting boring."