Business
New Student Club Brings the Fashion Industry to Kogod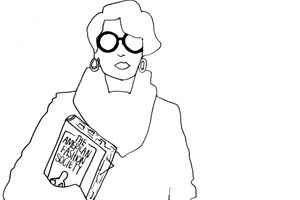 Washington, D.C. may not be the first city that comes to mind when you think of fashion, but a new Kogod student club proves the fashion industry in the District is gaining a foothold.
Fashion in the Capital
Phil Tschepik, BLC '17, and Zuli Burnett, BAE '17, serve as the President and Vice President of the brand new club, The American Fashion Society, to bring more a business perspective to the fashion industry for Kogod students.
"Management plays an important role in the fashion industry; it's not all designing," said Burnett, a New York City native who's familiar with the industry.
While the Bachelor of Science in Business and Entertainment degree at Kogod doesn't currently offer fashion and business courses, a great amount of student interest at an informational meeting prompted the founding of the new club in January of this year.
The club currently has about 30 active members, a full board and this semester has operated all events purely on donations.
"We want to start introducing the idea for fashion business classes at Kogod, but we also see ourselves as a place for students who are interested in fashion to really explore," said Tschepik.
Yellow Ribbon Fund Runway
This Sunday, April 12th, the group will host their inaugural AU student fashion show to raise money for the Yellow Ribbon Fund.
The Yellow Ribbon Fund Runway will feature all student models and clothing from connected DC and NY fashion designers, including:
Denise Fasuyi, Desire by Denise, Saadia Khan, formal wear, Mary Vandiver from Howard University and Ean Williams, Creative Director of Corjor International and Executive Director of DC Fashion Week.
Second District Records, a student-run record label, will provide music and performances.
Tickets are $10 and all proceeds go to directly to the Yellow Ribbon Fund, a DMV based charity that helps injured veterans and their families through housing and transportation, support programs and events that promote the healing process.
The event will take place in MCG 2-5 from 6-9 p.m. For anyone who cannot attend the event, donations to the Yellow Ribbon Fund are encouraged.
The American Fashion Society is open to students from all majors and schools at American University. For more information, check out their Facebook page or contact them at: aufashionclub@gmail.com.