Business
Annual Kogod Network Launches New Mentorship Program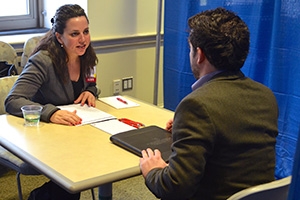 This year's Kogod Network was more than just the biggest networking event of the year: it launched a pilot mentoring program named after school benefactor Robert P. Kogod (RPK).
The RPK Mentors Program, managed by the Kogod Center for Career Development, aims to pair current Kogod students with successful Kogod alumni.
An advocate of strong mentor/mentee relationships himself, Kogod highlighted their importance in his commencement address at the school's ceremony in 2000.
"[You should] seek out persons of more knowledge and experience who will take an interest in you," he encouraged the graduates. "They will greatly enhance and facilitate your growth."
The pilot program currently has 13 second-year Full-time MBA students partnered with 13 MBA alumni.
Practice, Practice, Practice
In addition to the launch of the RPK Mentors Program, Kogod Network, which took place on April 1, facilitated mock interviews for Kogod students of all levels. More than 80 students participated, gaining experience that will give them an upper hand in future career advances.
"It's an opportunity to receive feedback from a hiring and HR perspective," said Gissela Ticse, MSA '15. "Most companies aren't going to provide feedback after an interview, either you get the job or you don't and you don't always know why."
The mock interviews also allow students to develop their skills without worrying about failure.
"It's a safe space to practice answering those tough questions," said Caroline Jureller, BSBA '16. "You can always improve your answers and always get more comfortable with yourself, which really shows in an interview. The mock interviews help me with that without asking in the back of my mind 'did I just lose this job?'"
Being confident and comfortable during an interview is key, according to the interviewers.
"Putting yourself out there and relaxing can be one of the toughest parts of an interview," said Brad Sherman, MSF '12 and president of Sherman Wealth Management. "It's important to be more than just the points on a resume, you have to engage with an interviewer and be comfortable in your own skin and that only comes through practice."
Jocelyn Prudencio, BSBA '99 and manager at Cordia Partners, stressed the importance of engagement as well.
"An interview is a two-way street. If you expect the hiring managers to be interested in you, you need to be interested in them and the company. Ask questions, think about your answers, it shows an interest."
To share how you'd like to get involved as a Kogod alumnus, please complete this survey.