Business
Professor Stevan Holmberg Retires from the Kogod School of Business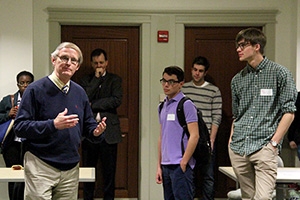 Dr. Stevan Holmberg, a leader in the development of the undergraduate and graduate entrepreneurship curriculum at American University, retired at the end of the spring 2015 semester. During his 38-year career at the Kogod School of Business, Holmberg served in a number of roles, including many focused on entrepreneurship.
As the founding director, he was instrumental in launching the Sustainable Entrepreneurship and Innovation Initiative, the Entrepreneurship Incubator, the Entrepreneurship Venture Fund, and an Entrepreneurship Advisory Council. With Amy Eisman from AU's School of Communications (SOC), he jointly led the effort to start an innovative MA in Media Entrepreneurship (a joint program between SOC and Kogod) and a Kogod minor in entrepreneurship for non-business school students. He also worked with other academic units to develop a proposed new modular master's program in entrepreneurship.
Holmberg served as acting dean of the business school for two years, as well as two separate terms as chair of the Management Department, and has been active in Kogod development initiatives, including raising funds for the new Kogod building, the Dean's Discretionary Fund, the Entrepreneurship Initiative, the Incubator, and the Entrepreneurship Venture Fund.
He taught graduate courses in entrepreneurship and innovation; entrepreneurship practicum: new venture creation; and strategic alliances, mergers, and acquisitions and has published in entrepreneurship and management journals including International Journal of Strategic Business Alliances and Journal of Business Venturing. His recent research has focused on strategic alliances; green and clean-tech entrepreneurship in the U.S., Sweden, and Denmark; sustainability and stakeholder models; disruptive innovation in the vehicle industry; and public-private partnerships and networks.
After earning his bachelor's degree at the University of Tulsa, Holmberg went on to earn his Master's and Doctorate in Business Administration at Indiana University. Attracted by Kogod and American University's culture of innovation; sense of community among faculty, staff, and students; focus on experiential education; small class sizes and individualized attention; Holmberg began his career at Kogod in 1977.
When asked about the highlights of his Kogod career, Holmberg noted three:
Working with the "bright, caring and wonderful faculty, staff, and students"
Developing the entrepreneurship initiative and working with two full-time entrepreneur Executives-in-Residence—Tommy White and Bill Bellows—as co-directors of the Incubator and with other colleagues.
Serving for two years as acting dean of Kogod
Holmberg plans an active "retirement" as he continues his interest in entrepreneurship by working with a number of new venture startups and incubators/accelerators. He plans to be an angel investor in new ventures and pursue his passions in the areas of green and clean-tech entrepreneurship, business, and policy. He is also looking forward to continuing his frequent visits to Sweden, Denmark, and Florida, and spending time with his family.