Business
Retiring Faculty: Philip Jacoby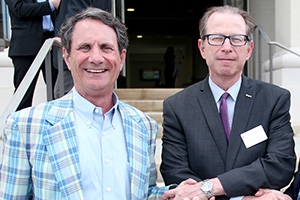 Dr. Philip Jacoby, associate professor in the Department of Accounting and Taxation, has retired after more than 40 years at the Kogod School of Business.
As a young certified public accountant (CPA), fresh from Price Waterhouse, now PricewaterhouseCoopers, in Boston, Jacoby joined American University in 1972 as an accounting instructor. Over the years, as he moved from a position as an assistant professor to eventually become the chair of the Accounting Department, a position he had for 13 years. 
Jacoby was a tireless advocate for the department and its programs, which educated hundreds of students who became CPAs, partners in the most prestigious public accounting firms, and executives in a wide variety of governmental, nonprofit, and business organizations. He was the first faculty member from Kogod to be the chair of the University Faculty Senate; he also served in the position of faculty representative to the Audit Committee of the University Board of Trustees for eight years, and was chair of the Kogod Educational Policy Committee.
But his signature accomplishment came when, as the associate dean for academic programs at Kogod, he successfully prepared the School for its initial American Assembly of Collegiate Schools of Business (AACSB) accreditation.
Over the years, Jacoby received a number of awards, including Kogod's Faculty Award for Outstanding Service in 2006 and 2013 and several awards for excellence in research in Jungian typology, academic administration, program development, and his contributions to the accounting education literature. He is a CPA and a member of the American Institute of Certified Public Accountants and the American Accounting Association.
Jacoby enjoys teaching and has taught a wide range of undergraduate and graduate courses in financial accounting, managerial accounting, and auditing. To this day, Jacoby remains a true believer in the profession of accounting, where a person can have a positive impact by keeping corporate financial reporting honest so that all investors, particularly "the little guys," have a fair chance to participate in the American economic dream.
In recent years, his research has been focused on ways to contain health care costs and the internal control systems of nonprofit organizations. His areas of expertise include auditing, business ethics, fraudulent financial reporting, auditor independence, corporate governance, human resource issues in public accounting firms, accounting and business education, Jungian psychological types, and the Myers-Briggs Type Indicator (MBTI).
Jacoby earned his bachelor's degree in mathematics cum laude from Boston College, his master's degree in accounting from Northeastern University, and his doctorate in business administration from George Washington University in 1980.
In retirement, Jacoby and his wife will live in Richmond where they'll be closer to their grandchildren. But his love of teaching still runs deep; he hopes to continue teaching at one of the universities in the Richmond area.