Business
Professional MBA Graduates and Senior Capstone Class Collaborate on Year-Long Project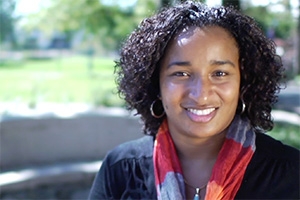 Know your client. Provide detail wherever possible. Make practical recommendations. All are hallmarks of good business decision-making.
This year, students in both the Professional MBA (PMBA) graduating class and students in an undergraduate senior capstone class sharpened their real-world business skills by working with the Washington Area Community Investment Fund (WACIF), a local community lending association.
A Year-Long Commitment
In the fall of 2014, Sasha Cooper-Morrison, Melissa Shepard, and Katery Fernandez, students in the first cohort of Kogod's PMBA program, worked on a semester-long project with WACIF, developing strategies for a number of organizational challenges. However, their commitment to improving WACIF didn't stop after their final presentation.
This semester, they volunteered their time to serve as advisors for the undergraduate Business Policy and Strategy capstone class with Associate Professor David Parthiban.
"We got involved because we wanted to. We saw it as a way to give back to the Kogod community of undergrads," said Sasha Cooper-Morrison, PMBA '14. "We've all developed a level of commitment and passion for WACIF."
The PMBA graduates served as advisors to the senior capstone students, sharing their recommendations and strategic plan for WACIF. At the beginning of the semester, they met with the undergraduates giving them a base to start off from and served as a resource. From there, it was up to the undergraduates to create a fresh perspective and be creative with their solutions.
"I think it really shows the value and quality of Kogod students and their ability to provide free advice and use creativity to further the goals of a community institution," Cooper-Morrison said. "It was nice for them to have it count toward their class credit, but also have a real impact with community organization."
From Theory to Practical Implementation
The capstone projects covered two issues identified by the PMBA graduates: stakeholder engagement and impact evaluation.
"It's a lot of fun thinking we were building upon someone else's project and that working with this organization has been going on for an entire year," Sarah Yahoodik, BSBA '15 said.
Yahoodik's group created a plan to utilize crowd funding as part of the stakeholder engagement plan. Although WACIF had recently dropped their crowd funding initiative, it was their job to convince them to change their mind by showing how crowd sourcing gives borrowers the ability to raise money under the WACIF brand name.
Jacob Wanner, BSBA '15, enjoyed working with the graduate mentors because they gave honest opinions about about what was working, what they were excited about, and what needed more attention.
"We really liked having them around early on, because it allowed us to pick up where they left off, and get correspondence as we built our ideas," said Wanner.
He also credits David for encouraging his students to take a very detailed look at what's going on, while also understanding the entire firm.
"[The professor] liked to say: 'I want to see the forest and also the trees individually.' With those pieces of feedback, we were able to get something we're proud of," Wanner said.
A key takeaway for the students was learning how to work with limited information and make the best with what you have. Compared to other capstone classes that use a business simulator on a computer, the project with WACIF allowed for real life application and practical skills.
Yahoodik believes she benefited from her experience, realizing that in the real word "you're going to have to work in very ambiguous situations all the time."
While Wanner admits it was more of a challenge, he's grateful for his experience working with WACIF.
"I'm glad we did ours the way we did. It's a lot more applicable to a real work situation," said Wanner. "I learned that you may never work with a perfect set of information; you really need to learn how to work with limited information and make practical assumptions."