Business
Finance Research Leads Two Students to
Pursue PHDs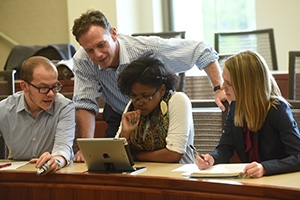 For as far back as she can remember, Casey Petroff, BS/CAS '13, has always loved the research aspect of being a student.
This fall Petroff will continue her passion for research while pursuing a doctorate in political economy and government at Harvard University's Graduate School of Arts and Sciences.
She started out at American University in the School of International Service, then, while taking an economics class, she realized the science played a key role in understanding a number of different disciplines, and changed her course of study to math and economics.
With the guidance of Kogod Associate Professor Michel Robe, she started research on her honors capstone examining crude oil markets—a topic she became interested in through a summer internship in the federal regulatory industry—which would become the first of many economic research papers to come.
Petroff isn't the only interdisciplinary AU student beginning a PhD program in the fall. But for Jonathan Wallen, BS/CAS '14, the path to a doctorate has been more of a discovery process.
During his time as an undergraduate studying math and economics, Wallen interned at the United States Securities and Exchange Commission and the U.S. Department of Energy, where he discovered his interest in the connection between economics and finance. He worked as a research assistant, learning about crude oil markets, how money moves in the world and how that affects the economy.
He also completed a summer program at the London School of Economics, where he saw the university method for research at the industry level.
"I found I enjoyed doing research the most at the university setting," he said. "You have much more intellectual freedom in terms of pursuing research questions."
Wallen has been accepted to Stanford's Graduate School of Business for a doctorate in finance beginning in the fall of 2015.
Kogod Connection
While Wallen and Petroff had different backgrounds and reasons for pursuing research, they both agree that getting interdisciplinary experience is invaluable.
One of the deciding factors for Wallen in choosing AU was the opportunity to have an interdisciplinary experience.
"AU is smaller, so there are greater opportunities to explore interests in different departments," he said.
While Wallen pursued a minor in finance he worked with Robe and fellow Kogod Associate Professor Valentina Bruno, who encouraged him to challenge himself and continue his research interests.
"They are outstanding professors, not just in terms of in the classroom, but also serving as mentors and really passing on the knowledge and training they have onto other students," Wallen said.
For Petroff, the academic freedom to research in other departments was "a fantastic experience that people who are considering a career in research by nature need to have."
She believes furthering your research knowledge cannot happen by staying in one department forever.
"There's a whole lot people can learn from experts in other fields you may not have met otherwise," said Petroff.
Forward Thinking
For other students interested in pursuing academia, both Petroff and Wallen agree that gaining research experience is the necessary first step.
Going from undergraduate classes to a PhD program is a giant leap that many students may not be prepared for right after college.
Both Wallen and Petroff advise students to get as much research experience as early as possible by taking advantage of internships, or completing a research intermediary program after graduation.
"By taking that opportunity you can make a much more informed decision, after you learn more about what it means to be a researcher," Wallen said.
Looking to the future, Wallen remembers the advice of Robe who challenged him to "change how the river flows" and make a contribution that not only creates new knowledge, but also changes how we understand knowledge.