Business
Dean Honors Alumni at Annual Dinner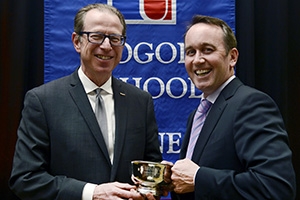 Last month, Dean Erran Carmel recognized two philanthropic Kogod alumni for their dedicated community outreach and service to Kogod at the annual Dean's Dinner.
Chris Donatelli, MBA '91, received the 2015 Community Leadership Award for his commitment to revitalizing neglected Washington, D.C. neighborhoods. The Community Leadership Award honors an alumnus exhibiting exemplary leadership skills to make a positive impact in the community.
Donatelli, president of Donatelli Development, forged strong partnerships with the District and WMATA to spur transit-oriented developments in lower income areas. His company developed 10 mixed-use buildings to attract people from all socio-economic backgrounds at U Street, Columbia Heights, and Petworth.
The development projects stimulated community growth as shops, restaurants and outdoor cafes popped up attracting residents and visitors from all backgrounds. Areas that were once urban deserts became more diverse and safer. Donatelli's work received national recognition from the Urban Land Institute and the National Association of Home Builders.
Donatelli's commitment to a historic city's future is shared with Washington, D.C. Mayor Muriel Bowser, SPA/MPP '00. In her recent District Address, Bowser said "the continued development of mixed-income developments is the key to progress of the city."
Donatelli serves as a mentor and advisor on the Kogod Real Estate Council connecting students to the real estate community. He and his wife Karen have four children.
The Dean's Alumni Award also recognizes a distinguished alumnus for outstanding service to the community, professional field, or service to Kogod. Gary Day, BSBA '01, received this year's award for his commitment to education by providing students with scholarships and internships and serving on the Entrepreneurship Advisory Council.
Day's interest in entrepreneurship grew during college while he worked at a venture capital firm. After graduating, Day founded DB Capital Management, a boutique investment firm for medical devices, software, social media, healthcare and financial services.
In 2010, he established the Day Family Scholarship for graduate students studying real estate.
In addition to financing students' educations, Day provided Kogod students with internship opportunities in his office by working regularly with the Kogod Center for Career Development (KCCD) to hire students.
Day served on the Real Estate Advisory Council, informally mentored students and spoke in real estate classes. He also regularly judges the Kogod Case Study Competition.
Day and his wife, Jennifer, have three sons. In addition to serving Kogod, the Day family supports cancer research, cancer family support organizations, and Teach for America.