Business
Second PMBA Cohort Takes Learning a Flight Further to Brazil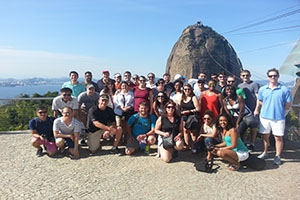 Not all universities offer MBA students an opportunity to study together for an entire program or go abroad as a group. But Kogod's Professional MBA (PMBA) cohort structure provides students with a unique 27-month experience to learn, make connections and travel outside of the United States.
"I honestly can't imagine not studying in a cohort. We are with the same individuals for the full length of the PMBA program," said Briana Evans, MBA '15. "You get to forge deep relationships over the tenure of your master's experience…something that I highly value on an academic, personal, and professional level," she said.
After planning and preparing together for almost a year, the second cohort departed on May 9 to Brazil for their eight-day international experience.
"The overarching goal of the program is for students to learn and understand how business is conducted in a developing economy," said Jolie Roetter, Kogod's director of global learning.
In Sao Paulo and Rio de Janeiro, the students visited and toured a variety of companies and organizations across a range of industries, largely based on their areas of interest.
"We researched the companies and wrote one-page research papers on them," said Linsey Jaco, MBA '15, about preparing for site visits in Brazil. "Professors were keeping those companies top of mind for us," she said.
They toured eight sites, including Natura, Brazil's largest beauty company, and Casa de Cultura e Cidadania, a community center offering educational courses for children and adults. After each site visit, students analyzed their experience.
"On the bus ride after each visit, we would have a discussion about what we learned from our visit and how it related back to other sites and our Brazilian visit in general," said Evans.
Students saw a different side of Brazilian business after hearing from a panel of entrepreneurs. A student favorite, the panel discussed the strengths and weaknesses of Brazil's monopolized economy.
"It was amazing to hear about what it was like to be an entrepreneur in general, an aspiration of mine, but especially in a different country and culture. They talked about both social hurdles, government policies and their impact on small companies, and their various experiences starting companies in a variety industries," said Evans.
Between site visits and networking, students found time to explore Brazil and expose their palates to the country's cuisine. They also toured Rio de Janeiro highlighting Christ the Redeemer and Maracanã Stadium.
The trip opened students' eyes to the possibilities and realities of living and working abroad.
"I would be interested in returning [to Brazil] and working for a fairly large firm...on strategy and operations and how to better produce within the country," said Daniel Feeman, MBA '15.
The second cohort graduates this December. In May of 2016, the third cohort will travel to China for their international experience.