Business
Kogod Faculty Testify Before Congress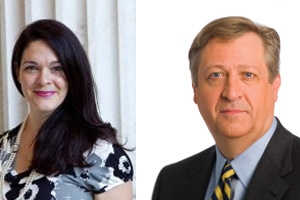 Not one but two members of the Kogod faculty recently testified before Congress, calling for tax policy changes that would simplify the overly complex tax burden on small businesses.
Professor Don Williamson, executive director of the Kogod Tax Policy Center (the Center), and Caroline Bruckner, executive-in-residence and managing director of the Center, testified before the U.S. House Committee on Small Business and the U.S. Senate Committee on Small Business and Entrepreneurship respectively on Wednesday, July 22, 2015.
A Call to Action
Bruckner and Williamson's testimonies called for a simplification of tax regulations to make it easier for small businesses as well as the new wave of digital entrepreneurs, often called "emerging entrepreneurs," to comply and pay their taxes. This group primarily transacts business through app-based platforms, such as Uber, Lyft, and Taskrabbit
As it stands, the U.S. tax code (the Code) is exceedingly complex and difficult to comprehend, even for the savviest businessperson. This new class of emerging entrepreneurs is relatively inexperienced in tax filing and thus bogged down by the Code.
"…a one-size fits all approach for small business' tax compliance burdens is inefficient and fails to recognize the specific attributes and various criteria policymakers, academics, government agencies, and legal authorities rely on to characterize small businesses as opposed to other firms," said Bruckner.
In his testimony, Williamson urged Congress to consider adopting a simplified cash method of accounting—basing taxable income of a small business solely on amounts received and paid throughout the year, much like balancing a household checkbook—streamlining the tax process for all involved.
"…simplifying reporting on tax returns will increase compliance, ease the burden of tax administration, increase tax revenue and ultimately reduce the gap between what taxpayers should pay and what the IRS actually collects," he said.
Research on these complex issues facing emerging entrepreneurs and other small businesses will continue to be focus of the Kogod Tax Policy Center moving forward. Videos of the full committee hearings may be viewed here and here.