Business
Kogod Student Works Hard but Networks Harder at the Cannes Film Festival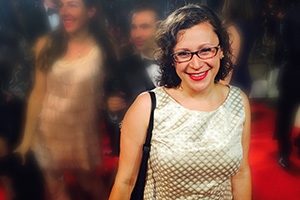 Few college students have the opportunity to attend high power business meetings, network with successful entertainment moguls and catch a peek of the rich and famous at the Cannes Film Festival.
But business and entertainment minor Sarah Liebman, SOC/BA '17, took full advantage of her chance. This past May, she boarded a plane for France to experience the film industry's business side first-hand.
"I heard about a program called The Creative Mind Group from another student in Kogod and she mentored me through the application. I was placed in an internship and went to Cannes," said Liebman.
The program paired her with a mentor from Waterstone Entertainment, whom Liebman said helped her better understand the different aspects of "film acquisition, development, and distribution."
"We were really immersed in the terminology and the business deals…I learned about how to be confident in a meeting and a lot of new industry terms," said Liebman.
Instead of typical intern duties like getting coffee, Liebman scheduled and organized business meetings for her mentor. She also attended these meetings, observing how he conducted business.
"My boss would answer my questions about what occurred in the meeting and would describe how the meeting went in relation to his company, i.e. if it was positive or negative," said Liebman.
Liebman also contributed "ideas on casting possibilities for a script in development."
Liebman's confidence boost served her well as she networked her way through the festival. Her mentor introduced her to industry leaders, colleagues, and friends playing important roles in the entertainment industry.
Always mindful that anyone could be a connection, putting herself out there proved to be "a good learning experience [because] it forced me to go to talk to people I didn't know," she said.
Hoping to pursue more internships in film or television development, Liebman kept all the business cards she collected. Liebman said her "main takeaway was how important it is to make connections and to maintain them."
Liebman's success came from her Kogod experience, but she specifically credited Executive-in-Residence John Simson. 
"Professor Simson is the reason I understood anything that was going on in Cannes. His entertainment industry course was crucial for help[ing] me work with my boss," said Liebman.
Liebman continues gaining experience in the entertainment and media industry. She is spending the remainder of her summer interning for WGBH, Boston's public broadcasting television station.