Business
Achieving Professional Happiness and Success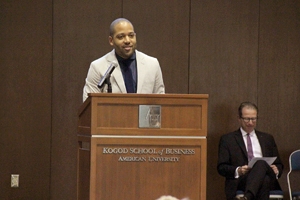 Searching for who you are doesn't end after college. "You have four years to figure your life out and then some more," said Justin Bridges, BSBA '08, at the annual Kogod Kickoff on August 29.
Continuing to celebrate Kogod's 60 successful years, Bridges shared his story with Kogod's incoming freshmen and transfer students urging them to search for happiness even if it means taking risks.
"Be open to change. Be open to following your heart even if it doesn't make sense at the time," said Bridges.
Bridges' began college aspiring to work in the political sphere, but quickly found his way to Kogod's finance program. His success in the classroom led to internship opportunities and then a job on Wall Street at Goldman Sachs.
"I worked [at Goldman Sachs], but I quickly found that I wasn't really finding exactly what I was passionate for. I was leaving for work by 6:15 a.m. and leaving around 6:30 or 7 p.m.... I started hating it. I loved the financial part, so I can at least tell you that, but I didn't really like what I was doing everyday," said Bridges.
Bridges left Wall Street taking a 6-month hiatus before finding work in the fashion industry that "was fun, but not where I wanted to be." He went on to start his own business as a photographer combining his finance knowledge with his artistic ability to achieve happiness professionally.
"My words aren't designed for you to rage against the machine," he said. "My words are designed to empower you."
Kogod Kickoff followed a week of activities welcoming new and returning students to campus. New students are encouraged to participate in university programing geared towards community involvement, like Kogod's Capital Connection: Exploring the D.C. Business Community.