Business
Finding Success in the Tundra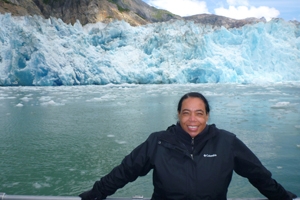 For Nicole Romer, MBA '97, success is not measured by large paychecks or fancy corner offices, but rather by efforts to make a difference in the lives of others.
Acknowledging her true calling to help others, Romer shed her corporate consultant job to pursue a more fulfilling career in Alaska with the Tanana Chiefs Conference (TCC).
"I want to use the tools that I've gained over the years to help this organization move forward to help a lot of people," said Romer. "It is much more rewarding. I don't care about the money."
The TCC, an organization promoting unity among native tribes and providing health services, education and infrastructure for all of the people, needed Romer's expertise in information technology (IT) to find technological solutions to reach tribes' remote villages.
She commuted from Miami to Fairbanks, Alaska for three weeks at a time. "I thought I was going to come in and just help with the IT department," said Romer, "but I found [TCC] needed a lot of strategic help not just with reorganizing their IT department…but with evaluating and investing money in the right technology altogether."
Romer focused on how technology would hold up in the next ten or twenty years. Between Alaska's harsh terrain making it hard to lay cables and the TCC's tight budget, technology had to be sturdy and cost effective by covering multiple needs.
Prioritizing health, education and infrastructure provided a challenge, but "it came down to what was absolutely necessary," said Romer. People need to have Internet service for video conferencing with doctors and for educational purposes, but they also need a pharmacy dispenser that combines elements to make the medications doctors prescribed and roads to deliver the pharmacy products.
Working hard to develop cost-effective solutions, Romer found a fulfilling career combining her IT skills with her desire to help others.