Business
The Week of a Lifetime
A Student's Perspectives from Fashion Week in Paris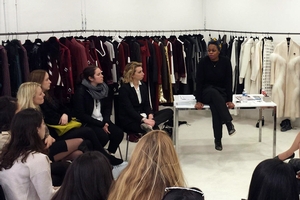 When AU student Alexis Varecka arrived in Paris last month, she knew the opportunity awaited to meet and network with leaders in the French fashion industry. What she didn't anticipate was how much their advice would impact her. "I'll never forget the insight Freddie Stephanie, head of public relations at Boon Paris, gave me," says Varecka. "She encouraged me to be different and own my individuality. It's important to stand out in such a rigorous industry."
This past March, Varecka, a freshman Business, Language and French Culture studies major, traveled to Paris with Professor Elaine Mensah and twenty other AU students for Ready-to-Wear Fashion Week. In addition to meeting Stephanie, students also spoke with fashion professionals such as couture designer Pascal Millet, and Maurice Mullen, Head of Fashion and Luxury Goods at the London Evening Standard. "Networking with these industry experts really helped prepare me for my career in fashion. It was eye-opening to get a behind-the-scenes look into the business of fashion," says Varecka.
Speaking with Parisian fashion professionals was only one highlight of the trip, though. Varecka and her classmates also visited fashion houses, attended a trade show, and toured universities—all the while exploring the city and culture of Paris. "This was an incredible opportunity for Kogod students because it provided them with access to the inner workings of the fashion industry most people haven't experienced," says Professor Mensah. "As a professor, it was personally impactful to see how after the trip, many students began to consider a career in the business sectors of fashion as a real possibility.
Read more below, where Varecka outlines the highlights of her trip and her experience.
---
Insight from Industry Professionals
For me, the most exciting part of the trip was visiting Parisian fashion houses, which helped me understand how a sketch becomes a product—and how much effort is put into creating a piece of fashion. We spoke with designers such as Pascal Millet, who has worked with celebrities such as Rihanna and Lady Gaga, and Eyemeric François, who is known for his fetish-inspired designs.
Probably the most helpful and inspiring conversation we had, though, was with Millet's assistant, Clement Saint-Germain. Saint-Germain just finished university and really struggled to find the right job in fashion. He worked for three other designers before settling into his current position with Millet. Despite the obstacles he faced, he remained determined until he found the right career choice for him. Hearing about his experiences was both relevant and motivating.
Unforgettable Networking Opportunities
Attending the Premiere Classe trade show was another huge highlight of the trip—and an invaluable networking opportunity. Premiere Classe is an event that draws hundreds of designers to Paris to showcase their collections to various fashion professionals, students and buyers alike. We got a behind-the-scenes look at how the fashion industry really operates, and the chance to meet and speak with people from all over the world.
At Premiere Classe, we met with Maurice Mullen, who is recognized in Vogue as one of the top nine most stylish fashion editors. We were thrilled for the opportunity to network with such an expert in the field. This opened us up to another dimension of the fashion world: fashion writing and editing. We learned about the chaotic and fast-paced nature of this work, but that, much like other fields in fashion, how its demands are also highly rewarding.
University Tours
When people see a product, they often do not consider how much time and effort is put into making it. This is one of the reasons the university tours we took on the trip were so valuable; they gave us an overview of both the product and the process of the fashion industry.
The first university we visited was La Fabrique Fashion School, where students learn how to work with materials and craft them into fashion pieces. At La Fabrique, it really feels like professors are teaching creativity more than anything. Students are given instructions on how to sew and work with fabrics, but the creative process is all up to them. For example, a professor might give an assignment such as "create a bag," and the student is responsible for developing it based on their own design. It was incredibly inspiring to see their work and the process behind it.
Fashion is often only thought of as clothing and shoes, but cosmetics and perfume are essential parts of the industry, too. We also got a first-hand into this at Osmothèque at ISIPCA, a school that teaches students how to create these goods. During the tour, we learned what types of families perfumes belong to, and even had the opportunity to smell select "preserved" scents—including the cologne Napolean Bonaparte wore!
---
Moving forward, Varecka plans to continue studying Business and French culture and fashion, with hopes of returning to Paris to study abroad. Attending Paris Fashion Week has only further deepened and informed these ambitions, inspiring her both academically and professionally. "This was truly the greatest experience of my career thus far," Varecka says. "I will always treasure this opportunity Kogod gave me."