Achievements
MBA Students, Alumni Maximize Opportunities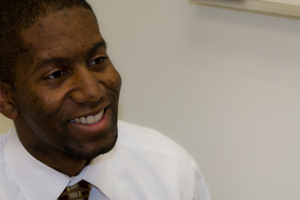 Dewayne Shambley, MBA '11, knew he wanted to work at Gallup before he came to Kogod.
A fascination with behavioral economics, specifically employee and customer engagement efforts, led to his initial interest in Gallup.
Learning more about Gallup at a career fair during his senior year cemented his desire to one day seek out employment.
Many years later, Shambley has achieved his aspiration. He will work as a business development consultant at Gallup's headquarters in Princeton, NJ, starting in June.
"My goal is to help businesses better understand and actualize the potential of their employees," Shambley said. "I look forward to learning and applying best practices to companies throughout the country."
Not all graduate students enjoy Shambley's certainty.
With the close of the academic year, graduate students are weighing their career options both for the summer and long-term.
For current students, internships are the undertaking of choice, while 2011 graduates, eager to utilize the knowledge and skills acquired at Kogod, enter the professional sphere.
Whichever crossroads students and graduates find themselves at, they are sure to make the most of each and every opportunity.
New Job, New City
For Sonal Metha, MBA '11, her path was relatively set; her three-month internship at MillerCoors last summer in Chicago, Ill., ultimately led to a full-time position starting in July.
Metha will be working as a digital media specialist in the marketing communications department. She credits her internship with providing her the necessary skills to meet the demands of her upcoming position, in particular, managing high-pressure situations.
"I've always wanted to work in the Consumer Packaged Goods industry, and have been specifically interested in beverages," Metha said. "The internship at MillerCoors provided me the opportunity to work in social media and gain experience at a large CPG firm as well."
Metha is looking forward to moving and is excited about starting a new phase of her life in a new city.
A British Internship in DC
Meredith Rogers, MBA '12, was drawn to an opening in the human resources department at the British Embassy based on her positive study abroad experience at the University of London as an undergraduate student.
It was one of the most rewarding experiences of her life, she said.
"I think that my internship in the Human Resources department will provide an exciting opportunity to learn differences between public and private sector employment," Rogers said.
The ability to present to upper level staff, work with others from different countries, and learn quickly on the job will prepare her for what lies ahead after she completes her MBA.
Rogers will also being working part-time at Costar Group Inc. a publicly traded technology company that provides information about the commercial real estate industry.
"I greatly look forward to a busy summer during which I can make contributions to these two different organizations," Rogers said.
Seeking Opportunity in Opportunity
Alexis Fabrikant, MBA '11, began her job hunt at the beginning of her second year. She knew her target companies were consulting firms with a federal consulting practice.
Fabrikant will work in the organizational improvement division of GT as a consultant.
"I knew I wanted a larger company because it would offer more career growth," Fabrikant said. "I also wanted to make sure that the glass ceiling wasn't too high and that I had opportunities to meet partners on a consistent basis."
Fabrikant will be applying what she learned from previous internships and her time at Kogod. She realizes there is a vast difference between learning about business and being able to implement/execute it.
"I'm excited that I will be working for a company that is just as invested in my future as I am," Fabrikant said. "There are several certifications as well as Six Sigma courses that GT offers its employees."